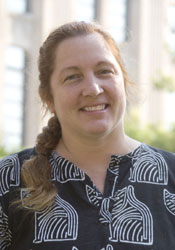 A 20+ year veteran of the restaurant/hospitality industry, covering every aspect from bartender to chef services and catering, Tricia Houston has been continuously exposed to wine.

Setting roots in the commonwealth of Kentucky saw Tricia's passion for wine take wing, establishing her own vineyard and soon to open winery, The Cat's Meow Vineyard and Winery. Tricia is now working towards her Winemaking Certification from UC Davis.

Tricia is one of the founding members and current President of the Northern Kentucky Vintners & Grape Growers Association (NKVGGA). The Association strives to educate the consumers on the long history of grape growing and wine making in this region; and the merits of the re-emerging wine industry in Kentucky. The NKVGGA also strives to expand the industry by working to bring in new wine grape growers, assist established vineyards and work on legislation and marketing that will benefit the wine industry.

She has traveled to the many distinct regions of the state, visiting the wineries and tasting the wines, and is working with the state agencies and other groups and associations to better define the topography, micro-climates and terroir within Kentucky.

Tricia resides in Warsaw, KY, with her husband, Fran, their 5 cats, 26 chickens and one ornery rooster.

For Appellation America, Tricia will cover the entire commonwealth of Kentucky, including the vineyards and wineries of Jefferson County and the Kentucky portion of the Ohio River Valley AVA.
Tricia Houston can be reached by email at
t.houston@appellationamerica.com
.