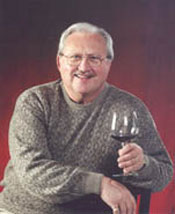 Chef, Wineau and professional bon vivant, Les Kincaid is one of today's most imaginative food personalities. Whether he is lecturing a visiting convention in Las Vegas, or concocting new recipes in his own kitchen, Kincaid transforms common ingredients into wow-inspiring dishes. His artful approach to cooking, confidence-inspiring instructions, and contagious enthusiasm have endeared him to a loyal following that tune in to his weekly shows, frequent his wine or cooking classes and appearances, and collect his books.

One of today's most imaginative food personalities, Kincaid is the author of numerous cookbooks including Never Trust A Skinny Chef II - inspired recipes for adventurous cooks, and his popular nationally syndicated shows -- 'Lifestyles Las Vegas' and 'Wines du Jour'-- broadcast from Las Vegas. Les' Wines & Vines is a refreshing break from the tough talk and controversial news that fills the media today.

Here's some food for thought. More enthusiastic wine drinkers tune in weekly to CRN Radio Network, and the audience is growing. That's target marketing with pinpoint accuracy for advertisers aiming for the upscale consumer. The 60-minute wine show is on the road going on-location to connect with wine and food lovers at special events such as the 2004 World Pastry Competition, Reno/Tahoe Food, Wine & Jazz Festival at the Reno Hilton, Annual Heirloom Tomato Festival in Sonoma among others. The weekly radio show is integrated with a dynamic personal website to give wine and food lovers an interactive experience (http://www.leskincaid.com). For businesses targeting active consumers with an upscale lifestyle, the recipe for success is as easy as pie. Just include 'Les' Wines & Vines' as an essential ingredient.
Les Kincaid can also be found on the web at http://www.leskincaid.com.
Les Kincaid can be reached by email at les@leskincaid.com.