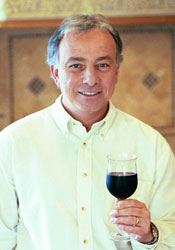 At his speaking engagements and wine tasting classes, Len Napolitano's opening remark is always the same: "I am a wine consumer who happens to write a wine column." It sums up his approach to wine education — straightforward, unpretentious and from a regular wine buyer's point of view. He understands the questions from the novice wine drinker and has a knack for explaining in simple terms what needs to be known.

Since 2001, Len has served as the regular wine columnist for the Ventura County Star (Southern California), a Scripps-Howard daily newspaper, and since 2002, he has appeared weekly in Wine Country This Week magazine, the leading tourism publication throughout Northern California, with an annual readership of over 4.5 million.

His column, "Wineology: Intelligence For The Wine Consumer," is written specifically for the person who simply enjoys wine and is curious to learn more about it. Wineology is consumer-centric, easy to read, and educational.

Len has also contributed wine articles in Santa Barbara Magazine, California Coastal Wines Magazine, 805 Living Magazine, the San Luis Obispo Tribune, and Wine Adventure magazine. He can also been seen in "bumpers" on Fine Living Television network giving essential wine advice on common wine subjects like storage, decanting, and serving temperatures.

Len conducts wine appreciation and tasting classes, has judged at international wine competitions, and served as a tasting classroom instructor at Paso Robles Wine University, in Paso Robles, California.

Beginning his wine studies at the Chicago Wine School, Len later earned wine-knowledge certification from both the Society of Wine Educators and the Wine and Spirits Education Trust.

Len has a Masters degree in Marketing, a Bachelor's Degree in Engineering, and resides in the Paso Robles wine region, the heart of California's Central Coast.
Len Napolitano can also be found on the web at www.wineology.com.
Len Napolitano can be reached by email at wineologist@earthlink.net.
1.  Len Napolitano, "How to save -- and still be able to savor -- half a bottle" ( Ventura County Star/Scripps-Howard: April 12, 2006 )

2.  Len Napolitano, "Wineology: Intelligence for the Wine Consumer - What information on a wine label is most important?" ( Wine Country This Week Magazine: April 7, 2006 )