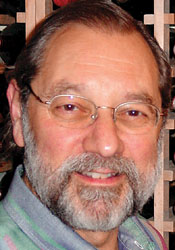 Dan Berger began writing about wine in 1976. Today Creators Syndicate distributes his column nationally. He contributes articles to numerous wine magazines. He and his wife, Juliann Savage, also publish a private weekly wine newsletter, Dan Berger's Vintage Experiences.

Mr. Berger is a speaker at numerous major events including the Yosemite Vintners' Holidays. He and Juliann also run the Riverside International Wine Competition. He wrote the California wine section of the acclaimed books Wine Report 2004, Wine Report 2005, and Wine Report 2006 (Dorling Kindersley, London). And he teaches professional-level wine courses at Santa Rosa Junior College.

Previously, Mr. Berger was a writer and editor at Associated Press for 10 years before joining the staff of the San Diego Union in 1979, where Copley News Service syndicated his wine columns. He also reviewed restaurants for San Diego Home/Garden Magazine, 1981-1986.

In 1986, Mr. Berger moved to Sonoma County to become Business Editor/wine columnist for the Santa Rosa Press Democrat; The New York Times Syndicate carried his wine column. In 1988, he joined The Los Angeles Times as full-time wine columnist and reporter. He left the Times in 1996 to publish Vintage Experiences. Between 1997 and 2001, Mr. Berger also wrote a weekly restaurant review column for the Marin Independent-Journal.

He has been a judge at wine competitions around the world and he also coordinates the Grand Cru Wine Competition of Long Beach.

Awards include the Wines and Vines Magazine "Wine Writer of the Year" award; the Father Junipero Serra Award for contributions to the industry by the California Wine Patrons of Los Angeles; and the Wine Literary Award, by the Wine Appreciation Guild. His books include Beyond the Grapes: An Inside Look at Napa Valley and Beyond the Grapes: An Inside Look at Sonoma County.

For Appellation America, Dan serves as Editor-at-Large and Regional Correspondent for Sonoma County's Russian River Valley and Green Valley appellations.
Dan Berger can also be found on the web at www.VintageExperiences.com.
Dan Berger can be reached by email at d.berger@appellationamerica.com.