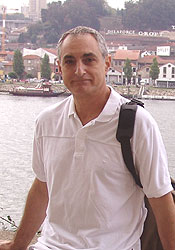 Alfonso Cevola is a third generation Italian American. He was raised in and around his grandfather's vineyard in California, where he was first exposed to the grape and the vine. Living in Italy as a youth gave Alfonso the opportunity to work in the vineyards of his Italian relatives during the summer and selected harvests.

Making the move to Texas in 1978, Alfonso made wine in the early 1980's in North Texas where he was a Gold Medal-winning winemaker in the Texas Wine Competition in 1982. By then, he had already traveled extensively in Italy and the other wine producing regions of the world, including France, Germany, Portugal, South America, California, Oregon, Washington, Texas & New Zealand.

Alfonso conducts educational training sessions for the wine trade throughout the Southwest and lectures on his current area of research, "Italian wine, Ancient and Modern," in the United States and Italy.

Alfonso currently offers his services to the Texas based Glazers Family of Companies, as their Italian Wine Director. He is the "ambassador" who translates the Italian experience (and its importance) and helps define, communicate and reinforce the Italian wine message, both inside the company and in the community.

Alfonso is a Certified Specialist in Wine and a Special Contributor to the Dallas Morning News.

His Wine Blog, On the Wine Trail in Italy, has become a just-in-time source for Italian wine and culture.
Alfonso Cevola can also be found on the web at www.alfonsocevola.com.
Alfonso Cevola can be reached by email at italianwinetrail@yahoo.com.
1.  Alfonso Cevola, "Ahhh, the Good Life" ( Dallas Morning News: March 19, 2005 )

2.  Alfonso Cevola, "Retail Therapy ~ Chianti Classico for $40.00?" ( Wine Sediments - The Well Fed Network: 10/07/06 )

3.  Alfonso Cevola, "Italy: The Future is Now" ( Wine Sediments - The Well Fed Network: 10/03/06 )

4.  Alfonso Cevola, "On the Wine Trail in Tuscany @ 130kmph" ( Wine Sediments - The Well Fed Network: 10/25/06 )

5.  Alfonso Cevola, "Hill Country Surprise!" ( Wine Sediments - The Well Fed Network: : 11/20/06 )

6.  Alfonso Cevola, "Far West Texas Viognier" ( Wine Sediments - The Well Fed Network: 11/20/06 )

7.  Alfonso Cevola, "IGT vs. DOC ~ Wrestling with the Question" ( Wine Sediments - The Well Fed Network: 12/22/06 )

8.  Alfonso Cevola, "Primitivo - The Prince and the Extra-Virgin" ( Wine Sediments: 1/23/07 )

9. New! Alfonso Cevola, "Terroir: Bricco Rocche" ( Sommelier Journal: August 2008 )