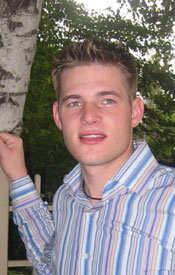 Dave Chandler is a fifth-generation Lodi grape grower whose family has long been involved in California's agriculture and wine industries. Needless to say, Dave has been around growers, winemakers, vineyards, and wineries his entire life. At the tender age of twelve Dave began working at the San Joaquin Sulphur Co., a family owned and operated business that has catered to and served Lodi Vineyardists for over fifty years.

Dave has more than a decade of work experience in viticulture and enology and has made wine from family-owned and farmed vineyards with his father and grandfather since the turn of the millennium.

He has also worked at Napa based Balzac Communications, Van Ruiten Family Winery, and the Lodi-Woodbridge Winegrape Commission.

Dave is a graduate of Santa Clara University with a major in History and a more than minor passion for writing. With an industry insider's perspective, Dave writes articles for The Legend, a Sacramento area lifestyle magazine, as well as regular contributions to Santa Clara University's The Santa Clara Review.