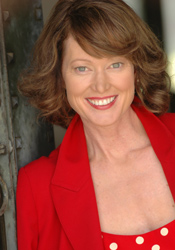 Catherine Fallis is the fifth woman in the world to have earned the title of Master Sommelier. Founder and President of planet grape® LLC, a company committed to bringing a passion for wine, food, and good living into the lives of everyday people, Catherine is creator of the grape goddess® guides to good living, a range of lifestyle guidebooks, seminars, tv, vlog and e-learning programs on wine, food, and travel, including Wine, Champagne & Sparkling Wine, and Erotic Foods.

Fallis is Editor-at-Large for Touring and Tasting, Contributing Editor for Santé, Associate Reviewer for APPELLATION AMERICA, frequent contributor to the San Francisco Chronicle, San Francisco Examiner, and numerous others, and co-author most recently of Great Boutique Wines You Can Buy Online (Silverback Books). She is an adjunct instructor at the Culinary Institute of America and the Professional Culinary Institute, a frequent speaker, event host, and educator for corporations, consumers, and the trade, and is one of a handful of professional sabreurs in the world that is female. She opens Champagne with a sword in a dazzling 3-minute theatrical performance.

Introduced to wine while backpacking around Europe in college days, she honed her skills later when she returned to live in Florence and Paris. Upon her return to New York she worked with Chef Alain Sailhac at Le Cirque, Leona Helmsley at the Helmsley Palace Hotel, and Kevin Zraly at Windows on the World. Her last full-time sommelier position was as Michael Mina's wine director at Aqua in San Francisco.

From Manhattan to Honolulu, Hollywood, Aspen, Monaco, and Cannes, Catherine has shared her wine expertise with dozens of celebrities including Heather Locklear, Vanna White, Ivana and Ivanka Trump, Nicolas Cage, Brad Pitt, Kevin Costner, Robert Redford, Antonio Sabato Jr., Richie Sambora, Chris Botti, and Diana Krall.
Catherine Fallis can also be found on the web at www.planetgrape.com.
Catherine Fallis can be reached by email at grapegoddess@planetgrape.com.
1.  Catherine Fallis, GRAPE GODDESS GUIDES TO GOOD LIVING: EROTIC FOODS
( iUniverse: December 2004 )

2.  Catherine Fallis, GRAPE GODDESS GUIDES TO GOOD LIVING: CHAMPAGNE & SPARKLING WINE ( iUniverse: December 2004 )

3.  Catherine Fallis, GRAPE GODDESS GUIDES TO GOOD LIVING: WINE ( iUniverse: December 2004 )

4. New! Catherine Fallis, "Greek Wine Odyssey" ( Wine Adventure Magazine: Holiday 2005 )

5.  Catherine Fallis, THE ENCYCLOPEDIC ATLAS OF WINE ( Global Publishing, Sydney Australia: Fall 2004 )

6.  Catherine Fallis, POCKET GUIDE TO WINE ( Portable Press, a division of Advantage Publishers : Fall 2002 )

7.  Catherine Fallis, GLOBAL ENCYCLOPEDIA OF WINE ( Global Publishing, Sydney, Australia: First Edition, Spring 2000 )

8.  Catherine Fallis, GLOBAL ENCYCLOPEDIA OF WINE ( Wine Appreciation Guild, USA: Second Edition, Spring 2001 )

9.  Catherine Fallis, CHALK HILL SOMMELIER GUIDE TO RESTAURANTS IN AMERICA ( Chalk Hill Press: First Edition, Spring 2001 )

10.  Catherine Fallis, CHALK HILL SOMMELIER GUIDE TO RESTAURANTS IN AMERICA
( Chalk Hill Press: Second Edition, Fall 2002 )

11.  Catherine Fallis, AMERICA: THE COMPLETE STORY ( Global Publishing, Sydney, Australia: Spring 2001 )

12. New! Catherine Fallis, "Master Sommelier Column: Champagne & Sparkling Wine" ( Touring & Tasting Magazine: Fall Harvest Edition 2005 )

13. New! Catherine Fallis, "Appellations: Monterey" ( Sante Magazine: June 2005 )

14.  Catherine Fallis, ""Opinion/ANALYSIS: High Rollers Not Fit For the Table" " ( Wines and Vines: December 2004 )

15.  Catherine Fallis, "Wine in Restaurants" ( Touring & Tasting Magazine: Fall/Winter 2004 )

16. New! Catherine Fallis, GREAT BOUTIQUE WINES YOU CAN BUY ONLINE ( Silverback Books: Fall 2006 )

17. New! Catherine Fallis, THE PORTABLE WINE TOUR ( Global Publishing: Fall 2006 )

18. New! Catherine Fallis, "Cruising for Wine & Food Lovers" ( Wine Adventure: Summer 2006 )

19. New! Catherine Fallis, "Master Sommelier Column: Stellar Cellar" ( Touring & Tasting : Summer 2006 )

20. New! Catherine Fallis, THE KOSHER BILLIONAIRE'S SECRET RECIPE ( TBD: Spring 2007 )