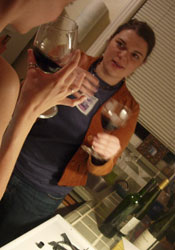 Farley Walker is the assistant tasting room manager at Rosenblum Cellars in Alameda. She got there by way of Mississippi, where she worked in the restaurant business training staff in wine service and writing wine articles for local publications.

She received her M.A. in creative writing with an emphasis in poetry and has published extensively in literary magazines and online journals.

Now she sells wine, sometimes helps bottle it, composes tasting menus and newsletter bits, and other odd jobs.
Farley Walker can also be found on the web at www.behindthevines.com.
Farley Walker can be reached by email at FWalker@RosenblumCellars.com.
1.  Farley Walker, "More Than Moonshine" ( Jackson Free Press: July 6, 2005 )

2.  Farley Walker, "Now That's Italian" ( Jackson Free Press: July 20, 2005 )

3.  Farley Walker, "A Season for Sparkles" ( Wine Outlook, 451 Press: December 13, 2006 )

4.  Farley Walker, "Making Art, Making Wine" ( Wine Outlook: January 4, 2007 )

5.  Farley Walker, "A Mississippi Girl in Wine Country" ( Jackson Free Press: January 31, 2007 )