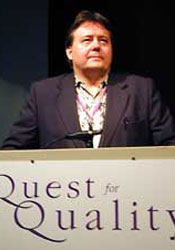 After a few years of reading about wine, Patrick W. Fegan went to France to learn more: working the harvest of 1971, pruning year-old vines, apprenticing as a retailer, etc. He attended the "Cours d'Oenologie" at the Université de Bordeaux à Talence, taking a short-course on the technical aspects of wine-making and wine-tasting. Since that time Patrick has made visits to every major vineyard area of the world across five continents.

Patrick's writing activity includes the wine columns for Chicago Magazine, Chicago Sun-Times, Chicago Tribune as well as irregularly published works for many other publications. In 1982, he wrote "Vineyards and Wineries of America: A Traveler's Guide" and in 1992, he published "The Vineyard Handbook: Appellations, Maps and Statistics" (revised 2003 edition currently on offer). Patrick was also a major contributing editor for the Oxford University Press' "Companion to the Wines of North America." He is also the technical editor for The Wine Experience, a national (c. 100 cities) 1-minute radio wine adventure.

Patrick began teaching about wine in 1975, and in 1984 he incorporated Chicago Wine School. Since then, he has offered 5-week courses and single-session seminars continuously. To date, over 20,000 students have participated. In addition, Patrick regularly lectures for private groups and wine conferences on various aspects of wine and spirits and has trained the sales force of many of the local wholesale and importing firms.

Patrick has been hired to judge over a 100 wine competitions throughout the world. Although he has worked in nearly every segment of the trade – production, retail and wholesale, and in restaurants – he has had no fiduciary interest in any wine or spirits entity since 1977.

Patrick W. Fegan is a graduate of the University of Illinois, the eldest son of 9 healthy children of loving parents and, so far, has perfectly functioning kidneys.
Patrick W. Fegan can also be found on the web at http://www.wineschool.com.
Patrick W. Fegan can be reached by email at pwfegan@aol.com.
1.  Patrick W. Fegan, THE VINEYARD HANDBOOK: APPELLATIONS, MAPS AND STATISTICS ( Chicago Wine School: 2003 )

2.  Patrick W. Fegan, OXFORD COMPANION TO THE WINES OF NORTH AMERICA ( Oxford University Press: 2000 )

3.  Patrick W. Fegan, VINEYARDS AND WINERIES OF AMERICA: A TRAVELER'S GUIDE ( Stephen Greene Press: 1982 )

4.  Patrick W. Fegan, "wine columnist" ( Chicago Magazine: 1973 to 1988 )

5.  Patrick W. Fegan, "wine columnist" ( Chicago Sun Times: 1979 to1982 )

6.  Patrick W. Fegan, "wine columnist" ( Chicago Tribune: 1988 to 2004 )