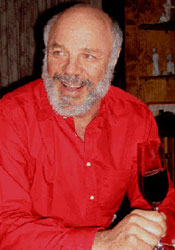 Ric Einstein does not get paid by the wine industry (or anyone else for that matter) for his writing so it is completely independent. Ric's online wine magazine, TORB (The Opinionated Red Bigot), is not afraid to tell it bluntly; there are no sacred cows on this free web site, which also doesn't containing any advertising.
If you have any interest in Australian red wine (and contrary to some thought, Australia is not located next to Germany, nor is it an American Appellation, despite our political and economic ties) then this is the site for you. Also contrary to popular belief, not all Australian wines are blackberry and vanillin alcoholic oak shakes; read TORBWine and you find out about the alternatives.
TORBWine contains thousands of tasting notes, hundreds of weekly articles, as well as feature stories. One of the most popular features of the site are TORB's Tour Diaries, which features the antics of TORB and his wacky mates as they weave their way through the wine regions of Australia. Tour Diaries are broken into chapters; each complete Diary is huge! They normally contain over 200 tasting notes, loads of pictures, interesting anecdotes, heaps of information about the wineries visited and that's just scratching the surface of the content.
Ric Einstein can also be found on the web at www.torbwine.com.
Ric Einstein can be reached by email at torb@torbwine.com.