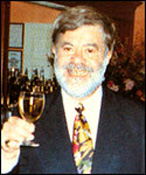 Ron received a BA in Marketing from Columbia College and an MS in Advertising from Columbia University Graduate School of Business. In addition, he is a graduate of the Grossman Beverage Program and The German Wine Academy. Ron keeps himself busy as Regional Vice President of Tasters Guild International and co-director of its New York Chapter. He is a Managing Director Emeritus of Acker, Merrall & Condit, the oldest wine merchant in America, and also President of Profit Plus Marketing & Management Company.

Ron's writings appear regularly in The Resident Publications, Real Travel Adventures, Tasters Guild Journal, SoGoNow, Local Wine Events and Bergen County Magazine. His travel & lifestyle pieces run on Sports Network which receives over 850,000 unique visitors A DAY. In addition, he has authored an audiocassette entitled "Discovering The World of Wine." He is the co-host of the syndicated radio show "The Wonderful World of Wine & Spirits," available in 6 states. Ron is also the wine, spirits & travel correspondent for the first world-wide internet talk show hosted by Sally Jessy Raphael.

Ron is a member of the Society For Wine Educators, a lecturer at The Wine Workshop and a co-founder of The Wine Media Guild. He is a Professor at Fairleigh Dickinson University's International School of Hospitality Management where he has established the Ron Kapon Wine Library. He was formerly the director of the wine program at Queens College Continuing Education Department. Ron is also the Senior Bureau Chief East for East West News Bureau as well as a partner in Wine Event Planners.
Ronald A. Kapon can also be found on the web at www.ronkapon.com.
Ronald A. Kapon can be reached by email at vinoron@yahoo.com.