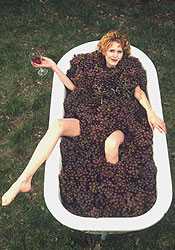 A passionate aphrodisiac advocate, Amy Reiley is one of the foremost-educated women in food and wine. In August 2004, she became the second woman in the U. S. and one of only fifteen people in the world to earn the title Master of Gastronomy awarded by France's culinary temple, Le Cordon Bleu.

While at Cordon Bleu, Reiley rose to notoriety for her work in the realm of culinary aphrodisiacs. In 2006, Reiley releases her first book, "Fork Me, Spoon Me: the sensual cookbook," cementing her role as America's leading aphrodisiac food authority.

In June 2005, Reiley was singled out as one of the year's five best female wine professionals in the world by France's Wine Women awards.

As an internationally recognized journalist, Reiley has contributed her food and wine knowledge to such publications as Sunset, The Wine News and Los Angeles Magazine. She also serves on Bon Appetit Magazine's monthly wine Tasting Panel.

Reiley is also noted as a culinary industry innovator. As the creator of "Amy Reiley's Pocket Vineyard" by neohand, she quickly established her place in this male dominated industry by introducing the world to the first comprehensive wine program for PDA's. In 2001 she launched the companion program, "Amy Reiley's Pocket Gourmet," lauded by Newsweek as the first of its kind. Both the Pocket Vineyard and Pocket Gourmet were named two of Worth Magazine's "must have" PDA programs in 2002.
Amy Reiley can also be found on the web at www.eatsomethingsexy.com.
Amy Reiley can be reached by email at amy@lifeofreiley.com.
1.  Amy Reiley, Fork Me, Spoon Me: the sensual cookbook
( Life of Reiley: 2006 )

2.  Amy Reiley, Chile Aphrodisia (Cook West) (Cook West)
( Rio Nuevo: 2006 )

3.  Amy Reiley, Amy Reiley's Pocket Vineyard for Palm OS
( neohand: 2000 )