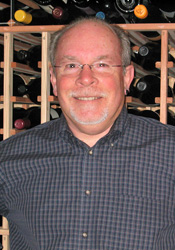 Eric Anderson has been interested in wine since the early 1980s. He is the owner and publisher of Grape-Nutz.com, a website devoted to wine travels and wine reviews, and is also editor and host of GrapeRadio.com, the James Beard nominated podcast and video podcast show. Eric manages to taste hundreds of wines per year, reporting back on his frequent travels to various wineries, vineyards, and wine events. He is a frequent contributor to many on-line forums, and has written several primers for new wine lovers on wine touring, wine storage, wine tasting, and wine label removal. Eric's vineyard photos have appeared in local and regional materials, as well the Wine Spectator.
Eric Anderson can also be found on the web at www.grape-nutz.com.
Eric Anderson can be reached by email at eric@grape-nutz.com.
1.  Eric Anderson, "Book Review: Anything But Chardonnay" ( grape-nutz.com: March 22, 2008 )

2.  Eric Anderson, "Book Review: He Said Beer, She Said Wine" ( grape-nutz.com: March 19, 2008 )

3.  Eric Anderson, "Book Review: The Wine Tasting Guide to California's Central Coast" ( grape-nutz.com: March 5, 2008 )

4.  Eric Anderson, "Austrian Wine & Food pairing" ( grape-nutz.com: February 29, 2008 )

5.  Eric Anderson, "PhotoJournal: Champagne" ( grape-nutz.com: September 19, 2007 )

6.  Eric Anderson, "Santa Ynez Valley Winery Visits" ( grape-nutz.com: August 2007 )

7.  Eric Anderson, "PhotoJournal: 2007 Auction Napa Valley" ( grape-nutz.com: July 2007 )

8.  Eric Anderson, "PhotoJournal: Walla Walla Valley" ( grape-nutz.com: July 2007 )

9.  Eric Anderson, "2007 Hospice du Rhône" ( grape-nutz.com: August 2007 )

10.  Eric Anderson, "Taking Wine on a Cruise" ( grape-nutz.com: April 21, 2007 )

11.  Eric Anderson, "Mid-Atlantic Winery Visits" ( grape-nutz.com: March25, 2007 )

12.  Eric Anderson, "Wine Label Removal" ( grape-nutz: November 2003 )

13.  Eric Anderson, "PhotoJournal: 2007 World of Pinot Noir" ( grape-nutz.com: July 2007 )

14.  Eric Anderson, "PhotoJournal: Ballard Canyon" ( grape-nutz.com: September 2006 )

15.  Eric Anderson, "PhotoJournal: 2006 Wine & Fire - Santa Rita Hills" ( grape-nutz.com: August 2006 )

16.  Eric Anderson, "Green Valley Symposium" ( grape-nutz.com: April 2004 )

17.  Eric Anderson, "Santa Rita Hills - Pictorial Essay" ( grape-nutz.com: January 2004 )

18.  Eric Anderson, "Central Coast Vineyard & Winery Visits" ( grape-nutz.com: August 2006 )

19.  Eric Anderson, "Sonoma & Napa Winery Visits" ( grape-nutz.com: January 2005 )

20.  Eric Anderson, "Sonoma Coast and Napa Valley Winery & Vineyard Visits" ( grape-nutz.com: April 2004 )