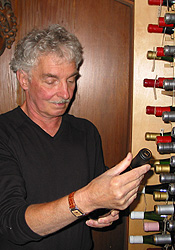 Jeff Cox has written two books on wine – the popular "From Vines to Wines" and "Cellaring Wine," both published by Storey Publishing. There's also a chapter on wine in his big book, "The Organic Cook's Bible," published by Wiley.

Jeff is a Contributing Editor to The Wine News and writes frequently for Decanter magazine. He has also written about wine for a wide variety of publications, including the San Francisco Chronicle, Diversion magazine, Fine Wine Folio, and Men's Health, where he is also a Contributing Editor.

Jeff has written about wine and grape growing in New York's Finger Lakes region, in Virginia, in Long Island, and Arkansas, as well as most of the appellations in Mendocino, Sonoma, and Napa counties, as well as the region around Paso Robles and the Santa Lucia Highlands on California's Central Coast. His articles in the Chronicle's Wine Page in the late 1980s were among the first to note the emerging importance of Pinot Noir in the Russian River Valley. Jeff has also visited and written about the wines of Italy, France, Germany, Argentina, and Chile.

In addition to writing about wine, Jeff developed his own vineyard when he lived in Pennsylvania and learned to make wine from his own grapes, a process he furthered when he moved to Sonoma County, California, in 1985. His personal wine cellar is thus well-stocked with wine he and several friends have made through the years.
Jeff Cox can also be found on the web at www.jeffcox.net.
Jeff Cox can be reached by email at jeffcox@sonic.net.
1.  Jeff Cox, From Vines to Wines ( Storey Publishing: 3rd Edition 1999 )

2.  Jeff Cox, Cellaring Wine : A Complete Guide to Selecting, Building, and Managing Your Wine Collection ( Storey Publishing: 2003 )

3.  Jeff Cox, "Zin Show Pulls In Record Crowds" ( Decanter: April, 2005 )

4.  Jeff Cox, "Lake County: New Kid on the Block" ( Decanter: July 2005 )

5.  Jeff Cox, "Valley of the Moon: Sonoma Valley" ( The Wine News: August/September 2003 )

6. New! Jeff Cox, "Standing Their Ground" ( The Wine News: June/July 2006 )

7.  Jeff Cox, "Sans the Fizz" ( The Wine News: December/January 2003/2004 )

8.  Jeff Cox, "Where Winemakers Dine" ( The Wine News: June/July 2005 )

9.  Jeff Cox, "DeLoach Renewal" ( The Wine News: April/May 2005 )

10.  Jeff Cox, "Stags' Leap Treasures" ( Fine Wine Folio: Summer 2003 )