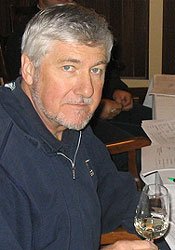 Sean Wood's interest in wine extends back to undergraduate days in Montreal. Subsequently, he spent two years in his native city, London, England, engaged in post-graduate research in History. This was prior to the huge inflation in wine prices, when even the great wines of Bordeaux and Burgundy were inexpensive. He had the opportunity to taste many top wines from celebrated post-war vintages, an experience that kindled a life-long zeal for the grape.

Sean has been, for many years, weekly wine columnist for the Halifax Chronicle Herald and Mail Star. He is a regular contributor to the national Canadian magazines, Tidings, and Wine Access, and has also written for London-based Wine & Spirit International. He travels frequently to report on developments in wine regions throughout the world. Sean has strongly supported the development of viticulture in Nova Scotia and served as Coordinator of the highly successful Atlantic Canada Wine Symposium held first in April, 2001 and repeated on a larger scale in 2004. He conducts numerous wine-related events and provides consulting services to the hospitality industry and to government. He is on the Advisory Board of the Association of Sommeliers of the Atlantic Provinces and provides professional training to hospitality industry professionals. He has served on the judging panel for the Canadian Wine Awards Competition since its inception four years ago.
Sean Wood can be reached by email at
seanwood@woodonwine.com
.