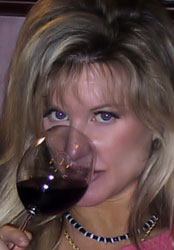 Jennifer Rosen's new book, Waiter, There's a Horse in My Wine, made best seller lists and sold out its first printing in three weeks. Her award-winning wine column, called "hilarious", "informative", and "the very essence of wine fun", appears weekly in the Rocky Mountain News in Denver, CO, a network of other papers across the nation and is read around the world by close to 10,000 subscribers of her Internet newsletter.

Known internationally as "cork jester" to the wine world, Jennifer is a regular contributor to Wine Enthusiast, the Beverage Network, and the New Zealand Winepress. She also writes for the Independence Institute, Long Island Wine Gazette, the Wine Club Newsletter, and wineries such as Flora Springs and Chateau Potelle in Napa and Les Chartrons in Bordeaux.

Clients for Jennifer's wine seminars include Merrill Lynch, The Escoffier Society, Immedient Corporation, Beaulieu Vineyards, the Colorado Symphony Orchestra, and the Denver Art Museum. She partnered with Microsoft to develop interactive software and a series of blind tasting seminars for CEOs around the country. Radio appearances include nationally syndicated Pierre Wolfe's Food & Wine, and a regular monthly spot on the Mike Rosen Show.

Jennifer was a 2003 finalist for the Jacob's Creek International Best Drinks Writer award. An Advanced Sommelier with the International Wine Guild, she lives in Denver, CO, and travels frequently to wine regions around the world, where she speaks French and Italian, stutters Spanish and German and has begun destroying Arabic. She is certified as a ski instructor, horse trainer, and handwriting analyst, and works off the job perks with belly dance and trapeze.
Jennifer Rosen can also be found on the web at www.vinchotzi.com.
Jennifer Rosen can be reached by email at Chotzi@vinchotzi.com.
1.  Jennifer Rosen, WAITER, THERE'S A HORSE IN MY WINE ( Dauphin Press: April, 2005 )

2.  Jennifer Rosen, "A Little Knowledge..." ( Rocky Mountain News: 12/25/04 )

3.  Jennifer Rosen, "To Have and To Hoard" ( Rocky Mountain News : 12/11/04 )

4.  Jennifer Rosen, "Dishing the Dirt" ( Rocky Mountain News: 11/20/04 )

5.  Jennifer Rosen, "Getting Your Fix" ( Rocky Mountain News : 10/30/04 )

6.  Jennifer Rosen, "Call of the Wild and Crazy" ( Rocky Mountain News : 10/2/04 )

7.  Jennifer Rosen, "3 Tiers for Wine: hip, hip, hipocrisy!" ( Rocky Mountain News : 10/18/04 )

8.  Jennifer Rosen, "Red's Turn" ( Rocky Mountain News : 9/11/04 )

9.  Jennifer Rosen, "Primal Fear" ( Rocky Mountain News : 6/12/04 )

10.  Jennifer Rosen, "Does Wine Make You Fat?" ( Rocky Mountain News: 5/22/04 )

11.  Jennifer Rosen, "Encyclopedia of Hogwash A-F" ( Rocky Mountain News: 4/10/04 )

12.  Jennifer Rosen, "Encyclopedia of Hogwash G-R" ( Rocky Mountain News: 10/10/04 )

13.  Jennifer Rosen, "Encyclopedia of Hogwash S-Z" ( Rocky Mountain News : 4/10/04 )

14.  Jennifer Rosen, "Syrah/shiraz the easy-to-please crowd-pleaser" ( Rocky Mountain News: October 19, 2005 )