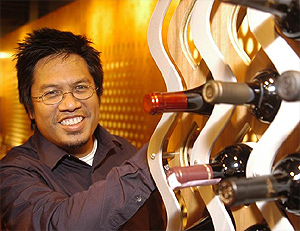 Career wine professional Randy Caparoso has been bylining newspaper wine columns, magazine stories and online blogs since 1981. Over 90% of what he writes about is from the perspective of contemporary foods. Not coincidentally, he's made his living over the past thirty years in restaurant/hospitality wine management, and has also managed a couple of retail stores and wine bars along the way.

A career highlight was as a Founding Partner and VP of the James Beard Award winning Roy's restaurant group; with whom he garnered Sante magazine's first "Grand Award/Wine & Spirits Professional of the Year" (1998). He was also twice named by Ron Wiegand MW/MS as a Restaurant Wine "Wine Marketer of the Year" (1991 & 1999).

Caparoso has also served as a wine judge and speaker in numerous capacities, and in 1997 was commended by the Academy of Wine Communications for Excellence in Wine Writing and Encouragement of Higher Industry Standards.
Randy Caparoso can also be found on the web at www.randycaparoso.blogspot.com.
Randy Caparoso can be reached by email at randycaparoso@earthlink.net.
1. New! Randy Caparoso, "Culinary Wine & Food Adventures" ( blogspot.com: 2008 )

2.  Randy Caparoso, "Randy's World of Wine & Food" ( Robin Garr's Wine Lovers Page: 1998 )