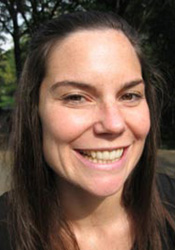 Jennifer Frank is a noted wine expert and author of "Wine At Your Fingertips" from Alpha Books, a division of the Penguin Group and publishers of the highly successful "Complete Idiot's Guide" series.

Jennifer holds an Advanced Certificate with honors from the Wine & Spirit Education Trust. She worked in wine retail and as a sommelier in New York City before opening her own shop, California Wine Merchants, in the heart of Manhattan's Financial District.
Jennifer Frank can also be found on the web at http://cawinemerchants.com.
Jennifer Frank can be reached by email at jen@cawinemerchants.com.
1. New! Jennifer Frank, WINE AT YOUR FINGERTIPS ( Alpha Books: October 7, 2008 )

2. New! Jennifer Frank, "2008 Littorai Vin Gris Pinot Noir Anderson Valley" ( Drink The Good Stuff: May 25, 2009 )

3. New! Jennifer Frank, "Meandering with Meander Wines" ( Drink The Good Stuff: April 25, 2009 )

4. New! Jennifer Frank, "Ovid Wines First Taste" ( Drink The Good Stuff: Marchh 22, 2009 )

5. New! Jennifer Frank, "Ten Great Wines Under $20" ( Drink The Good Stuff: April 30, 2009 )