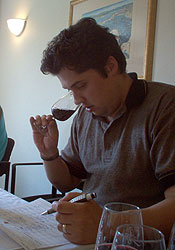 Mark DeWolf is one of Nova Scotia's most recognized sommeliers. Since graduating with top honors from the International Sommelier Guild in 2001, Mark has worked as managing and consulting sommelier for a number of Halifax's top restaurants. Mark is also the Food and Drinks Editor for the Nova Scotia Liquor Corporation's Occasions Magazine.

Mark DeWolf was on the original editorial staff at Appellation America and was the team leader and creative force in the development of Appellation America's Varietal Characters series.

Mark and his Sommlier wife, Adelle Lyon, operate DeWolf Beverage Consultants (902-444-1999), an independent beverage consultancy which provides catering for wine focused dinner parties, in-home wine education classes, as well as training services and wine list development for the hospitality industry.

As a wine educator, Mark is co-instructor of the Association of Sommelier's of the Atlantic Provinces Certification Program and teaches the Exploring Food & Wine courses.
Mark DeWolf can be reached by email at
m.dewolf@appellationamerica.com
.