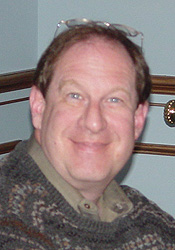 Scott Greenberg, aka "The Vine Guy", is the wine columnist for the DC Examiner newspaper. Each week, Scott's articles appear in over 260,000 homes throughout the Washington, DC metropolitan area. Scott writes about interesting wine related topics and wine reviews in a very down to earth, easy-going style. He was recently described by a colleague as the "Dave Barry of Wine Writers," though he failed to see the humor in that.

Scott is involved in several wine writer associations and wine tasting groups. He is also a frequently sought after (warrants in nine states and growing) wine lecturer and guest speaker, regaling young and old alike with wondrous tales of wine and, well, wine. He recently finished teaching a course for the Smithsonian Associates program on North American Wineries, focusing on producers in California, Oregon and Washington. They even paid him for the privilege – go figure.

For a living (because wine writing is not as lucrative as one would imagine), Scott is a partner in the Bethesda, MD based insurance brokerage/consulting firm Greenberg, Wexler & Eig (www.gwellc.com)

He is an avid collector and enjoys discovering unknown gems as well as drinking monolithic legends -- on someone else's tab whenever possible. Scott and his wife, Cindy (AKA "The Vine Gal"), have 3 boys, a yellow lab (named, appropriately, Turley) and a couple bottles of wine. They all reside, somewhat peacefully, in Potomac, MD.

Both Scott and Cindy's articles are archived on their website www.vineguy.com -- Be sure to visit their site often and register for valuable prizes (subject to availability, restrictions, trade mark and patent rights, animal rights, air rights, uprights, and laws governing sub-atomic particle physics)!
Scott Greenberg can also be found on the web at www.vineguy.com.
Scott Greenberg can be reached by email at scott@vineguy.com.
1. New! Scott Greenberg, "Class of Its Own - California Shines at Smithsonian Institute" ( DC Examiner Newspaper: November 2, 2006 )

2. New! Scott Greenberg, "Class of Its Own - Oregon Know Its Wines - Part 2 of the Smithsonian Institute Class" ( DC Examiner Newspaper: November 9, 2006 )

3. New! Scott Greenberg, "Wines to Give Thanks For - He Said/She Said Thanksgiving Wine Review - Page One" ( DC Examiner Newspaper: November 16, 2006 )

4. New! Scott Greenberg, "Wines to Give Thanks For - He Said/She Said Thanksgiving Wine Review - Page Two" ( DC Examiner Newspaper: November 16, 2006 )

5. New! Scott Greenberg, "Class of Its Own - Washington Wines Find Their Mark - Part 3 of the Smithsonian Institute Class" ( DC Examiner Newspaper: November 22, 2006 )

6. New! Scott Greenberg, "Old Testament Wines - Judean Hills Comes to the US" ( DC Examiner Newspaper: November 30, 2006 )