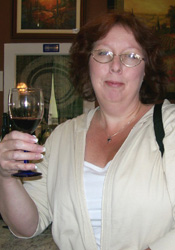 Fran has been enjoying her hedonistic journey through the grapevines, sipping and writing in Northern California since the Great Crush of '98.

Genuinely committed to promoting the budding wineries in and around Lodi, California, Fran has created her website, www.VineLanguage.com, as an informative and entertaining guide to enjoying the local wines and lifestyle. Fran's articles have appeared in D'Vine Wine and Visitor's Guide, ARTIFact (a Delta College publication), and she has written for Downtown Lodi Business Partnership.

Fran's article entitled "How to Go Wine Tasting" won First Place in the non-fiction category for Stockton Arts Commission's 2007 Annual Writing Contest.
Fran Benavidez can also be found on the web at www.vinelanguage.com.
Fran Benavidez can be reached by email at vinelanguage@sbcglobal.net.