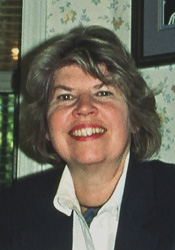 Barbara Ensrud developed a passion for wine while at Time-Life Books in New York, where she worked on wine books with authors and photographers. Traveling to European vineyard regions, visiting with winemakers and wine experts of the day led to contributions to "The Joys of Wine," working with authors Sam Aaron and Clifton Fadiman. She was one of the first East coast wine journalists to visit extensively in California wine regions in the 1970s and contributed California entries in the "The New York Times Book of Wine" for author Terry Robards.

She inaugurated Vogue's first monthly column on wine in 1978. In 1979, she began a weekly column for The New York Daily News, which went out on wire services to such major national newspapers as the Chicago Tribune, Dallas Morning News, San Jose Mercury News, Boston Globe, Miami Herald, Philadelphia Inquirer and others. In 1983 she began writing about wine on the Leisure & Arts page of The Wall St. Journal, continuing until 2005.

Ensrud's wine articles have appeared in most of the magazines that cover food, wine, travel and lifestyle, including Food & Wine, Saveur, Decanter, Parade, Travel & Leisure, House & Garden, Metropolitan Home, GQ, Food/Arts and online at sallys-place.com. She is the author of four wine books, including "Wine with Food" and "American Vineyards." In 2003 she began the wine column, "Cork Report," for Metro Magazine in Raleigh, NC, and maintains her own website, www.Bewinewise.com.

As a wine educator, Barbara has taught wine classes at City University, L'Academie du Vin, and Windows on the World, all in New York; the University of Mississippi in Oxford; and currently at Duke University in Durham, NC, where she has resided since 1999.

She has judged in major wine competitions in the U.S. and Europe, including the San Francisco Wine Competition, Los Angeles County Fair, West Coast International, San Diego International, International East Wine Competition, Sonoma County Harvest Fair, and Pacific Northwest Wine Competition.

She is an elected member of the New York Press association of wine writers, Les Dames d'Escoffier and the American Society of Journalists and Authors.

For Appellation America Barbara covers the rapidly expanding wine industry of her home state, North Carolina, and its Yadkin Valley AVA.
Barbara Ensrud can also be found on the web at www.Bewinewise.com.
Barbara Ensrud can be reached by email at b.ensrud@appellationamerica.com.