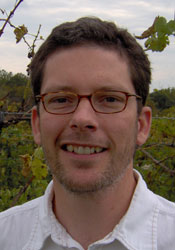 After spending four years as a brewer and filterer at a Missouri microbrewery -- and three times that long as a basement brewer, cidermaker, and winemaker -- Tim Pingelton has made the leap to the big-time. He is the production manager at the newly-formed Westphalia Vineyards. The first vintage, in 2006, was an immediate success, with the Norton Reserve winning a gold medal at the National Norton Festival (only 5 Golds awarded from well over 100 entries). A book Tim wrote, A Readers Guide to Ernest Hemingway, was published last year, and he is now taking careful notes on what goes into starting up a winery with the aim of writing it all up in a humorous and informative series or book. He is a freelance medical writer/editor and has also written several short children's stories centered on art mysteries.

For APPELLATION AMERICA, Tim's beat covers the Hermann, Augusta, Ozark Highlands, and Ozark Mountain AVAs, and any other areas in the state of Missouri and Arkansas where grapes are grown or wine is made. He knows the area well and has traveled it much, tasting the local wines wherever he goes. He has also traveled and lived far beyond Missouri but is always drawn back to the wonderful seasonal change and the under-publicized beauty of the state. Tim's interest in wine is fueled by its unique interconnections of chemistry, history, agriculture, sociology, cuisine, and culture.
Tim Pingelton can be reached by email at
t.pingelton@appellationamerica.com
.
1.  Tim Pingelton, A READERS GUIDE TO ERNEST HEMINGWAY ( Enslow : June 2005 )

2.  Tim Pingelton, "Wine & Dine at Thanksgiving Time" ( Columbia [MO] Business Times: Nov. 2005 )