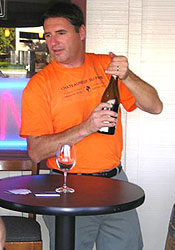 I fell in love with wine when my uncle decided to buy three vine parcels in Chateauneuf-du-Pape to re-create the family vineyard, Domaine du Banneret, which originally dates back from many centuries.

As a CPA, I initially made the financial plans for the loans and participated in the first and all subsequent harvests. It was during this joyful epoch that I met with my future American wife, Kristin.

I started then to offer our wines to US importers and to embrace the wine world.

Now, besides Domaine du Banneret where I am also involved in the wine making, I distribute a portfolio of French wines in the US and do wine education in France.

Besides wine, I am also in love with my family. It is composed of my wife Kristin who is the wonderful writer who created the very famous site www.french-word-a-day.com, my son Maxime who is a fan of Zinedine Zidane and Tony Parker, and my adorable daughter Jackie who can out swim us all.

Cheers,

Jean-Marc Espinasse.
Jean-Marc Espinasse can also be found on the web at www.french-wine-a-day.com.
Jean-Marc Espinasse can be reached by email at contact@french-wine-a-day.com.
1. New! Jean-Marc Espinasse, "Great wines from Northern California" ( www.french-wine-a-day.com: June 2006 )

2.  Jean-Marc Espinasse, "Sécateur" ( www.french-wine-a-day.com: September 2005 )

3.  Jean-Marc Espinasse, "Label" ( www.french-wine-a-day.com: August 2005 )

4.  Jean-Marc Espinasse, "Racine" ( www.french-wine-a-day.com: July 2005 )

5.  Jean-Marc Espinasse, "Oak soup..." ( www.french-wine-a-day.com: September 2005 )