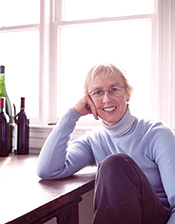 Louisa Thomas Hargrave was the co-founder of the Long Island wine industry, planting the first wine grapes on the North Fork in 1973. Her Hargrave Vineyard wines won numerous awards and accolades before she sold her winery in 1999 and became a writer, columnist, wine judge and consultant. Since October, 2004, Ms. Hargrave has been the Director of the Stony Brook University Center for Wine, Food, and Culture.

Ms. Hargrave is a founder and a member emeritus of The Long Island Wine Council. She has served on the New York State Governor's East End Task Force, the Blue Ribbon Commission to Preserve Agriculture in the Town of Southold, the Long Island Regional Planning Board and Les Dames d'Escoffier International. She is also a trustee of The Old House, Cutchogue (a national historic landmark).

Ms. Hargrave frequently speaks on and writes about the wine industry. She is a columnist for the Times Review News Group. In 1986, she authored "The History of Wine Grapes on Long Island" for the Long Island Historical Journal. Her memoir, "The Vineyard," was published by Viking in May, 2003 and (as a Penguin paperback) in May, 2004.

Ms. Hargrave received her B.A. in 1969 from Smith College and Harvard University and her M.A. in education from Simmons College in 1971. She was awarded an honorary Doctor of Science degree by Dowling College in 1998.
Louisa Thomas Hargrave can also be found on the web at www.louisahargrave.com.
Louisa Thomas Hargrave can be reached by email at louisahargrave@hotmail.com.
1.  Louisa Thomas Hargrave, The Vineyard: A Memoir
( Penguin: May 2004 )