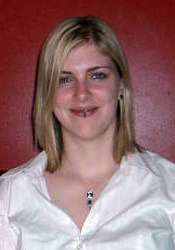 Erin Harvey is a freelance writer and co-editor of the online wine publication "Grape Juice." She also contributes to "Wine Sediments," and leading Canadian national wine and food magazine VINES.

A closet wine fan since the early years, her true passion emerged while studying at a university situated just outside of the Niagara region. Love at first sip, she has been swirling, swishing and spitting happily ever since.

When not drinking, thinking, or writing about wine, Erin is a peculiar cross of forensic chemist and editor in the digital entertainment media industry.
Erin Harvey can also be found on the web at http://www.blogit.dodgy-at-best.com/grapejuice.
Erin Harvey can be reached by email at grapejuice@dodgy-at-best.com.
1.  Erin Harvey, "Merci, Paris: How comparative wine tastings benefit the entire industry" ( Wine Sediments: 06/18/06 )

2.  Erin Harvey, "Wine Labels" ( Grape Juice: 10/15/06 )

3.  Erin Harvey, "On Wine Reviewing" ( GrapeJuice: 06/04/06 )

4.  Erin Harvey, "Ethics In Wine Blogging" ( Grape Juice: 06/29/06 )

5.  Erin Harvey, "What Makes A Good Tasting Experience Part I" ( Grape Juice: 07/14/06 )

6.  Erin Harvey, "What Makes A Good Tasting Experience Part II" ( Grape Juice: 07/21/06 )

7. New! Erin Harvey, "Buying Guide Contributions." ( VINES Magazine: Spring 2007 )

8. New! Erin Harvey, "Icewine Consumerism: Lessons Learned" ( Grape Juice: 03/30/07 )

9. New! Erin Harvey, "Sauvignon Blanc - The World Over" ( Wine Sediments: 02/27/07 )

10. New! Erin Harvey, "Rise of the Super Tuscans" ( Wine Sediments: 03/27/07 )