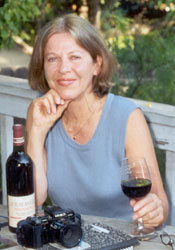 Rhoda Stewart was born in eastern Saskatchewan, Canada, and has been a Professor of English at Napa Valley College since 1978. She earned her B.A. from Waterloo University College, Ontario, Canada, in 1963, and, supported by a Canada Council Doctoral Fellowship, her M.A from the University of California, Santa Barbara, in 1968. By 1974, having completed all course work towards her Ph.D., she moved to San Francisco, where she began work as a photographer. By the time she had joined Napa Valley College faculty in 1978, she had photo publications in cat, llama, baby animal, and wild flower calendars. Her contributions to wine journals followed soon upon her move to Napa, with photos and articles appearing in such journals as Napa Valley magazine, Wine Country magazine, Practical Winery & Vineyard, Motorland, Sacramento Bee magazine, GuestWest, Wine Enthusiast, Wine News, Wine Spectator, and Sauveur.

A Zinfandel Odyssey is the product of about 15 years of research, photography, and writing on this dusky and mysterious grape and its wine. Her first report, "The Challenge of Zinfandel," Part I and II, appeared in the May/June and July/August 1987 issues of Practical Winery & Vineyard (PWV), followed by a second two part report, "Zinfandel: The Affordable Luxury," in the September/October and November/December 1992 issues. A Zinfandel Odyssey (2002) is an extension of the research done for these two in-depth reports, and generated four additional reports for PWV in 2002: "Zinfandel Growers Answer the Irrigation Question" (March/April 2002); "Zinfandel Origins Discovered" (May/June 2002); "Rancho Zabaco: Gallo's Family Passion for Zinfandel" (July/August 2002); and "Ravenswood - Exploring Nuances of Zinfandel" (November/December 2002).
Rhoda Stewart can also be found on the web at www.zinfandelodyssey.com.
Rhoda Stewart can be reached by email at rhodairis@prodigy.net.
1.  Rhoda Stewart, A ZINFANDEL ODYSSEY ( Practical Winery and Vineyard: December 2001 )

2.  Rhoda Stewart, "Ravenswood - Exploring Nuances of Zinfandel" ( Practical Winery and Vineyard: November/December 2002 )