RICHARD GRANT PETERSON, PHD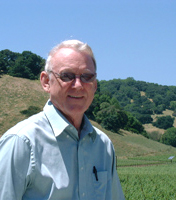 Richard Peterson holds a BS degree in Chemical Technology from Iowa State University, a MS degree in Food Technology from the University of California, Berkeley, and a PhD in Agricultural Chemistry from the University of California.

Dr. Peterson's professional winemaking career spans 5 decades, commencing in 1958 when he joined the E & J Gallo Winery in New Product Development and Research. Over the years, Dr. Peterson has served as Winemaster at Beaulieu Vineyard, The Monterey Vineyard, and Atlas Peak Vineyards, and Chairman of Folie a Deux Winery. He continues today as viticulture and enology consultant for several high quality winery operations in California, as well as his own sparkling wine project, Richard Grant Wines, in Napa Valley.

Dr. Peterson has also served as President of The American Society for Enology and Viticulture, Director of the Wine Institute, Chairman of WITS, VP of the Napa Valley Wine Library, a Supreme Knight in the Universal Order of Knights of the Vine and a member of most professional wine societies. He is a founding member of the American Institute of Wine and Food, AWARE, Society of Wine Educators, and the International Wine Academy.

Dr. Peterson has judged wines professionally in Australia, Portugal, France, Argentina and the UK, as well as continuing to judge at most major American competitions.

As an educator, he has taught Wine Appreciation at Hartnell College in Salinas, California and has been a guest lecturer at UC Davis. He has lectured on Viticulture and Enology at the International Wine Academy, the Hotel School at the University of Houston, Texas, and elsewhere. Dr. Peterson is currently Vice President of the Monterey Wine Auction, which develops funds to support outstanding, and often needy, students in the wine, food and hospitality industries. He has been Chairman of the Andre Tchelistcheff Scholarship Committee since its origin at Monterey in 1986. This committee has awarded nearly $1,000,000 in scholarship funds to college students over the past nineteen years – all generated from the Monterey Wine Auction events and personal donations.

Dr. Peterson has authored numerous publications, including winery newsletters, research articles in technical journals, a column on common sense winemaking in Wines & Vines magazine and is a wine host on America Online. He holds patents on improved wine production processes and US and foreign patents on methodology for treating plant diseases, notably Pierce's Disease of grape vines.

Both his daughters are graduate Enologists, with degrees from UC Davis, working in the wine industry.


Richard Grant Peterson, PhD can be reached by email at
sales@richardgrantwine.com
.