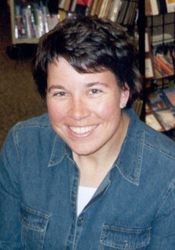 Cari Noga has covered Michigan's grape and wine industry since 1999, first as a reporter for the Traverse City Record-Eagle, the daily newspaper serving the hub of the statewide industry. As a freelance writer she now focuses on the business side of the industry, including production, marketing, sales, expansions and trends. She has written for trade magazines including Wines & Vines and travel and tourism publications. She writes a monthly wine column for the Traverse City Business News and blogs at www.michgrapevine.com. Her general writing site is www.carinoga.com
Cari Noga can also be found on the web at www.michgrapevine.com.
Cari Noga can be reached by email at cari@michgrapevine.com.
1.  Cari Noga, "Michigan for Michiganders" ( Wines & Vines : July 2007 )

2.  Cari Noga, Chicken Soup for the Wine Lovers Soul
( HCI Publications: November 2007 )