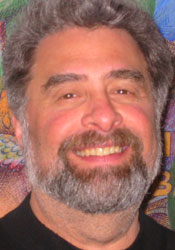 ALAN GOLDFARB began his career in journalism as a sportswriter for Newsday in New York. He also wrote about sports for the Hearst San Francisco Examiner and the Associated Press. When he arrived in the San Francisco Bay Area in 1973, he quickly realized that the No. 1 sport there was wine and food -- so he quickly crossed over.

Alan has been writing about wine for 16 years. He was the wine editor at the St. Helena Star in the heart of the Napa Valley where it is said, that assignment must be akin to covering Catholicism at the Vatican.

Alan's work has also appeared in the San Francisco Examiner, the San Jose Mercury News, Wine Enthusiast, American Airlines' American Way, and the Underground Wine Journal among many others. He is the contributor of the chapter, "Chewing on Chile," in the Travelers' Tales book, Adventures in Wine. He also wrote the biography of wine artist Thomas Arvid in his 2004 published book, Arvid: Redefining the Modern Still Life.

Mr. Goldfarb has also had his own radio show called "Wine & Food with Alan Goldfarb", which was broadcast in San Francisco, Sacramento and in the East Bay of San Francisco.

For AppellationAmerica, Alan serves as Regional Editor for the Napa Valley, plus its 14 sub-appellations.
Alan Goldfarb can be reached by email at
a.goldfarb@appellationamerica.com
.
1.  Alan Goldfarb, "Wine of the Week: 2002 Ravenswood Dickerson Zinfandel ($30)" ( St. Helena Star: Feb. 10, 2005 )

2.  Alan Goldfarb, "Free Run Juice: Now's the Time for Wines of Distinction" ( St. Helena Star: Feb. 10, 2005 )

3.  Alan Goldfarb, "At Silver Oak They Just Keep on Coming" ( St. Helena Star: Feb. 10, 2005 )

4.  Alan Goldfarb, "Defining Napa Valleys SubAppellations" ( Wine Business Monthly: February 2005 )

5.  Alan Goldfarb, "High-Tech Takes Hold at Vineyard 29" ( Wine Business Monthly: October 2004 )

6.  Alan Goldfarb, "Wine of the Week: 2001 Rutherford Ranch Cabernet Sauvignon, Napa Valley ($14)" ( St. Helena Star: Feb. 3, 2005 )

7. New! Alan Goldfarb, BIOGRAPHICAL INTRODUCTION: THOMAS ARVID -- REDEFINING THE MODERN STILL LIFE ( IG: Febraury 2005 )

8.  Alan Goldfarb, "CHEWING ON CHILE" ADVENTURES IN WINE ( Travelers Tales: 2002 )

9.  Alan Goldfarb, "Free Run Juice: Despite Cancellation Meritage Moves On" ( St. Helena Star: Feb. 3, 2005 )

10.  Alan Goldfarb, "Esquisse on Market for $7.1 million" ( St. Helena Star: Feb. 3, 2005 )

11.  Alan Goldfarb, "Laura Zahtila Serendipitously Finds Herself in Wine Business" ( St. Helena Star: Feb. 3, 2005 )

12.  Alan Goldfarb, "Wine of the Week: 2002 Calistoga Cellars Merlot, Napa Valley ($26)" ( St. Helena Star: Jan. 27, 2005 )

13.  Alan Goldfarb, "Free Run Juice: Who is Jon Moramarco?" ( St. Helena Star: Jan, 27, 2005 )

14.  Alan Goldfarb, "Divas Uncorked: Its Time to Sell Wine to African-American Women" ( St. Helena Star: Jan., 27, 2005 )

15.  Alan Goldfarb, "D.A.'s Injunction can hurt vineyard manager Abreu" ( St. Helena Star: Jan. 27, 2005 )

16.  Alan Goldfarb, "Constellation CEO Wants Mondavi to Know 'His Legacy is in Good Hands'" ( St. Helena Star: Jan. 27, 2005 )

17.  Alan Goldfarb, "Aglianico Alliance: Collins & Deardon Team Up to Make Obscure Italian Wine" ( St. Helena Star: Jan. 20, 2005 )

18.  Alan Goldfarb, "At GMO Conference: Unlikely Modified Vines Could Stop Pierces Disease" ( St. Helena Star: Jan. 20, 2005 )

19.  Alan Goldfarb, "'Mondovino': Dog Day Afternoon" ( St. Helena Star: May 12, 2005 )