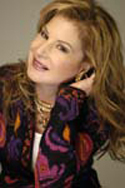 Author of five books translated into three languages, Marisa D'Vari has written about wine, food, and travel for London's Financial Times, Robb Report, Quarterly Review of Wine, Sante, and dozens of international newspapers and glossy magazines.

She was the host of Television's "A Taste of Luxury," featuring distinguished guests including Robert Mondavi, Julia Child, John Shafer of Shafer Vineyards, Daniel Boulud, Charlie Palmer, Adam Tihany, Todd English, and dozens more.

Currently, she is the publisher of the online magazine http://wwww.AWineStory.com, featuring audio and video podcasts with winemakers and a fun wine futures report.
Marisa D'Vari can also be found on the web at http://www.AWineStory.com.
Marisa D'Vari can be reached by email at story@AWineStory.com.
1.  Marisa D'Vari, "Zeitgeist of Napa Valley Terroir" ( AWineStory (Interactive Online Magazine): December 27, 2006 )

2.  Marisa D'Vari, "The Secret Sex Life of Grapes" ( AWineStory (Interactive Online Magazine): December 29, 2006 )

3.  Marisa D'Vari, "Mysteries of the Marsanne Grape" ( AWineStory.com: 2/1/07 )

4.  Marisa D'Vari, "Daniel Johnnes Top 200 Wines Reviewed" ( A Wine Story: 8/13/07 )

5.  Marisa D'Vari, "Kosher Wines for Rosh Hashanah" ( AWineStory.com: 9/22/08 )

6.  Marisa D'Vari, "Weingut Strub, Riesling producer in Rheinhessan" ( AWinestory.com: Sepbember 25, 2008 )

7.  Marisa D'Vari, "Discovering Kendermann: Behind the Scenes of a Best Selling Brand" ( marisa d'vari: september 27, 2008 )

8.  Marisa D'Vari, "Riesling Unplugged! Talking Sharks' Teeth with Martin Tesch" ( AWinestory.com: 9/26/08 )

9.  Marisa D'Vari, "Inhaling wine with Johannes Leitz" ( http://www.AWineStory.com: september 28, 2008 )

10.  Marisa D'Vari, "Tasting Riesling with Jakob Schneider Jr. In Nahe, Germany" ( http://www.Awinestory.com: 9/28/08 )

11.  Marisa D'Vari, "Experiencing Hochheim Riesling with Dr. Franz Werner" ( http://www.awinestory.com: september 28, 2008 )

12.  Marisa D'Vari, "A Tale of Two Schlosses" ( http://www.AWineStory.com: september 28, 2008 )

13. New! Marisa D'Vari, "Enjoying Landuedoc Wines" ( AWineStory.com: 2/25/09 )