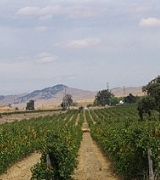 Discover the Ever Expanding Livermore Valley
by Michael Lasky
September 12, 2012
Visiting the Livermore Valley region is a great way to explore the diversity of wines this historical appellation in California delivers. Wineries and grapes go back many generations here, yet a host of new players are adding texture and expression. Long noted for the gravel soils of the valley floor, new flavors are coming into the mix as vineyards are pushed into the surrounding hills and boutique tasting rooms expand.
[>] see full story
Related Stories...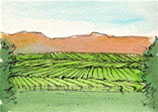 Livermore Valley put California on the international wine map in 1889, capturing America's first gold medal at the Paris Exposition. The winemaking history here is long and fascinating, beginning in 1844 when Robert Livermore (an English sailor) jumped ship and planted the first vineyards. The Wente and Concannon vineyards, established in the 1880s, are still industry leaders in production today.

Livermore Valley boasts one of the original U.S. appellations granted by the BATF way back in October, 1982. This designation was largely based on the unique, gravel-based soils and the marine winds that are drawn into the valley every afternoon from San Francisco Bay. As with Santa Clara Valley, wineries here struggle with the relentless pressures of urban expansion throughout the Bay Area. About 40 wineries survive, not only on grapes grown in the Livermore Valley, but also from grapes sourced in surrounding appellations. Livermore Valley has always had a strong reputation for the Bordeaux white varietals and continues to produce remarkable Sauvignon Blanc and Semillon, even though acreage devoted to these two stars continues to dwindle.

Bi-State Upper Hiwassee Highlands an AVA
By
Roger King
August 6, 2014
In the southern Blue Ridge Mountains of North Carolina and Georgia vineyards are small and few, yet the establishment of the Upper Hiwassee Highlands could bring much more.  [>] continue

Discover the Ever Expanding Livermore Valley
By
Michael Lasky
September 12, 2012

The New Old Livermore Valley
By
Laura Ness
July 31, 2009

Taking Wente Vineyards to the Nth Degree
By
Laura Ness
April 3, 2008

As the Crane Flies
An Interview with Nick Nardolillo
of White Crane Winery
By
Laura Ness
February 8, 2007

The Doctor is In...and So is Petite Sirah
By
Laura Ness
February 5, 2007
[>] see all Livermore Valley features (7)

Remote Manton Valley New California AVA
By
Roger King
July 31, 2014

WAWGG Banquet Explores Washington State Terrior
By
Roger King
February 2, 2014

Taking Focus on Appellation
By
Clark Smith
December 9, 2013