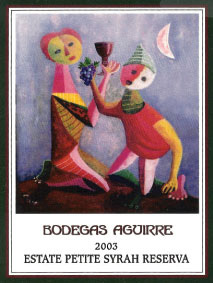 The Doctor is In...and So is Petite Sirah
The key is the fabulous fruit. Winemaking is one of the parts of the process that can be important, but the fruit is the most important part.
~Dr. Ricardo Aguirre, Bodges Aguirre Winery
by Laura Ness
February 5, 2007
---
Dr. Ricardo Aguirre, MD, is quite frank: He's in the wine business, and that wasn't his intention. He really just wanted to grow a few grapes so he could have something to do after he retired. Now, at 2,350 cases per year and growing; if he ever retires, he'll be working harder than he may have planned. But wine is an incredibly seductive thing, and once you start planting vineyards, picking fruit, adding the yeast, and selecting the barrels, you are hooked.
What makes so many doctors get into the wine business, I asked him. "That's easy," he says. "Doctors are perfectionists, and we're used to hard work. I like to think that we acquire good taste along the way. We already have the required education in science, microbiology, chemistry, algebra and trig. All the basics. And we're used to diagnosing problems and fixing them. Wine makers are like stewards. We are trying to get the wines through difficult passages, fixing some problems and avoiding other ones."
Aguirre moved to Livermore to 1978, and bought 32 acres of vineyard property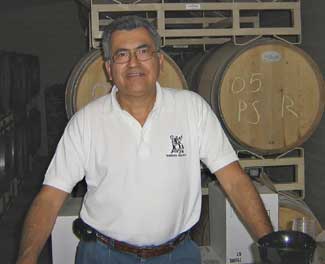 east of Cedar Mountain Winery in 1982. In 1996, he planted 12 acres with Cabernet, Cabernet Franc, Merlot, Petite Verdot and Malbec, thinking that he really wanted to focus on creating fine Bordeaux wines. But the itch to expand his repertoire led him to put in an additional 7 acres of
Petite Sirah
at his home site of the
Bodegas Aguirre
Winery and Vineyards in 1998.
Petite Sirah Rules
"The Petite Sirah likes it so much here; we've had great success without even trying," he enthuses, explaining that his first vintage of Petite Sirah, the 2002, was rated #1 at the Tri-Valley Wine Competition. He won Gold for the 2003 Petite Sirah in the San Francisco International Competition in 2006. "It is our signature wine mainly because I believe we are very competitive with any Petite Sirah anywhere. I haven't tasted any other Petite Sirah that I would rather drink than my own." The key, he says, is the fabulous fruit.
The
Bodegas Aguirre
Winery and Vineyards are meticulously maintained and Aguirre is a stickler about fruit quality and intensity. He typically drops about 50% of all the Petite Sirah fruit, and did so in 2006 with the Cab and the Merlot as well, in order to up the ante and increase the remaining fruit's concentration. His goal is to pick at just the perfect time to avoid having to add anything to the must. "I'd prefer to let the wine make itself in the vineyard. Winemaking is one of the parts of the process that can be important, but the fruit is the most important part. Ideally I would add nothing to a wine except sulfites and yeast."
Every year, he experiments with the style of the Petite Sirah. The first year was very French, big in tannin and structure. The 2003 is more California style, picked at 24.5 to 25 brix, so that it achieved only 13.5% alcohol. It was aged in mostly French oak. The 2004 was done predominantly in 3 year air-dried American oak, which gives the wine decided flavors of smoke and spice, whereas the French oak imparts more subtle, honey-vanilla flavors. In 2005, he divided the wine evenly among 3 different barrel types: French, American and Hungarian. The results of the experiment thus far drove him to use 100% French oak for the 2006 Petite Sirah. His reserve wines, which are priced from $25 to $42, get 75% new oak to give them more intensity and structure. The estate wines are in the $18 to $25 price range.
Here Comes The Bride
When asked which was the most fun wine he has made to date, the answer comes easily. "The Wedding Wine I made for my daughter Sylvia's wedding in 2001! It has
Syrah
, Petite Sirah,
Zinfandel
,
Cabernet Sauvignon
and
Merlot
. It came out of nowhere! I did not know that such a blend could actually work, but people like it so I have been making it ever since."
He now makes a blend called Trio that is 40% Cabernet, 40% Merlot and 40% Petite Sirah, as well as Duo Classico, that is a 50/50 blend of Merlot and Cabernet Reserve which also has a bit of Petite Verdot, Malbec and Cabernet Franc, Then there is his
Carneros
Pinot Noir
. "I personally like Pinot Noir and I wanted to see if I could make a good Pinot Noir. I chose very fine fruit. By the taste of it, I think I accomplished my goal of making a good Pinot. It's not light. It's 14%, not a wimpy Pinot. It's not subtle!"
Then, because he hadn't made a white—yet— he decided to try a rosé. The barrel sample of the 2005 Cab/Merlot was a glorious sunset color somewhere in the scarlet and deep pink range, very intense and filled with a heady nose of cherries. The pigmentation came from 24-hour skin contact after pressing. The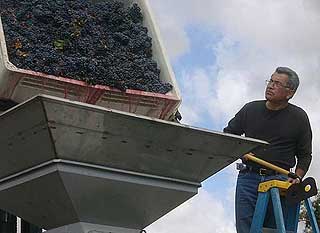 texture is plush and the acids very nice, with a pleasant raspberry and guava core, and an incredible hit of juicy fruit Lifesaver at the end. There was an unmistakable touch of butterscotch on the finish. This one is not subtle either.
He also makes sweet wine, to please the seemingly insatiable appetite of consumers for ports and dessert wines, here in Livermore. They literally fly off the shelf. "I did not want to be left out, even though I don't drink these kinds of wines myself. I did make some port. We'll see how it turns out. I used Cabernet Franc, Cabernet Sauvignon and Merlot, but it's too early to tell." He thinks he might like to try a sweet white wine also, a late harvest wine from grapes that have been left hanging to 30 Brix.
The doctor confesses that winemaking is becoming increasingly consumer-driven, as winemakers try to cater to the tastes of a growing pool of wine drinkers. But he adds, "Personally, I think it is easier to make wines which you like to drink yourself. It is more rewarding to make the wines you like to make."
The White Test
Aguirre is reluctantly making a white wine, primarily to fill a hole on the list, but also, as he did with Pinot, to test himself to see if he can make a good white. "It is not rocket science, but it is a somewhat different process and I want to see how it goes." Because it is so readily available, he will make a
Chardonnay
. But if he could get his hands on some
Pinot Grigio
, that would be his first choice. However, very little Pinot Grigio is grown in Livermore, and Dr. Aguirre wants to focus on appellation-sourced fruit.
Sylvia, his daughter, is the General Manager of the winery, which means she is also handling all the marketing and sales. She is actively working to get the wines on restaurant wine lists in San Francisco. Dr. Aguirre feels that restaurants are much more important than wine