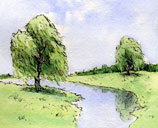 Willow Creek is California's northern most 'coastal' American Viticulture Area (AVA). This distinction is not well known outside the far north of the California coast, and only Seida Valley AVA in inland Siskiyou County is farther north. The region lies in a narrow valley formed by the Trinity River only 25 miles from the cold Pacific Ocean, yet it still enjoys an abundance of sunlight and heat due to the multiple mountain ranges in between. The AVA was established in 1983, from the petition efforts of two area school teachers with small vineyards located in the Willow Creek Valley, Ed Oliviera and Dean Williams. It spans elements of Humboldt and Trinity Counties.

The region is very rugged and mountainous with the cold crystal clear waters of the Trinity River rushing literally through the middle of the AVA. The valley floor rests 400 – 500 feet above sea level surrounded by 4000 foot mountains. The AVA runs from a few miles east of the town of Willow Creek following the Trinity River to a point a few miles southwest of town and is inclusive of the valley floor and surrounding slopes to an elevation of 1000 feet, which encompass about 6,000 acres. The Trinity connects to the Klamath River several miles downstream from the AVA where the Klamath continues to the ocean. This long corridor to the cold ocean waters eventually leads to evening temperature drops of as much as 50 degrees.

Soils are typically very rocky with little clay content. Rocks, sand and a loose loam cover most of the land. Parent rock is ocean shale piled up from the continuous action of the Pacific plate diving under the North American plate and pushing marine deposits in front of the subduction zone. These soils are well drained and vines must send their roots deep to avoid summer drought.

A short growing season tends to be hot and dry with daytime temperatures mainly in the 90's reaching the 100's for week long stretches. It is this daytime heat that differentiates Willow Creek from the surrounding Humboldt County appellation. Afternoon breezes running up these coastal river valleys reflect, ultimately, on the coastal nature of the appellation. When rainfall resumes during the late fall and winter months as much as 70 inches can be totaled in a year. Winter temperatures do fall below freezing.

Only 7 small commercial vineyards exist at this time in the AVA. Ranging in size from 2 acres to 20, a diverse variety of grapes are grown with varied success. Cabernet Sauvignon, Cabernet Franc, Malbec, Merlot, Pinot Noir, Sangeovese, and Zinfandel, all needing summer heat comprise the reds, Chardonnay, Sauvignon Blanc, Riesling, and Chenin Blanc are grown for white.

Currently just 3 small wineries exist in Willow Creek; Dogwood Estates, Sentinel, and Winnett Vineyards. Other wineries in cool to cold parts of Humboldt County rely on the heat of Willow Creek for warm climate red grapes.
Amador 4 Fires, A Taste of the Foothills
By
Roger King
March 6, 2015
Besides legendary Zinfandel, Amador County has taken to Rhone, Italian and Iberian variety wines with laudable results. Now the Amador 4 Fires brings the foods of those regions to an open flame to explore a total experience  [>] continue

Bi-State Upper Hiwassee Highlands an AVA
By
Roger King
August 6, 2014

Remote Manton Valley New California AVA
By
Roger King
July 31, 2014

WAWGG Banquet Explores Washington State Terrior
By
Roger King
February 2, 2014

Taking Focus on Appellation
By
Clark Smith
December 9, 2013

A Day in the (Rutherford) Dust
By
Barbara Trigg
August 2, 2013

Whitehall Lane Winery, A 20 Year Story of Vineyards
By
Roger King
July 15, 2013

Embracing Virginia's Terroir
By
Richard Leahy
June 2, 2013