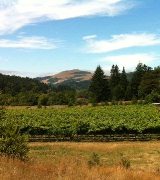 Humboldt County: Is Too Much Terroir Possible?
by Clark Smith
October 14, 2012
Known for giant redwoods this remote Northern California appellation has sought to establish it's unique identity and is now finding it with wines that are truly different in the scheme of California. One quickly finds there are two halves to the whole of this region based on south to north, but also by mtn ridge count from the Pacific.
Willow Creek AVA, in the northern interior is warm. Southern Humboldt is cold demanding grapes that cherish this attribute.
[>] see full story
Related Stories...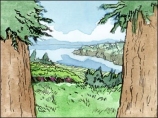 Humboldt County, located in Northwest California, is well known as a paradise for the outdoor adventurer and nature seeker alike. The coastline is awe inspiring and the Redwood Forrest National Park a natural treasure.

The county is known as the southern gateway to the Pacific Northwest, and judging by its cool, wet weather and sparse population it has more similarities to coastal Oregon than it does to the rest of California. Not surprising, despite the region's natural beauty few wineries call Humboldt County home.

The wineries that are located in the county, particularly those close to the coast, concentrate their efforts on early ripening vinifera such as Chardonnay, Pinot Noir and Cabernet Franc. These wineries and others seeking to make big reds from grapes such as Zinfandel, Merlot and Cabernet Sauvignon source grapes from neighboring Mendocino and Trinity Counties as well as other more southerly locals, including the Napa Valley, to supplement their production.

Winery and vineyard expansion in the southern portions of Humboldt County have surfaced interests in defining an AVA to this region, which has ties to regions within northern most Mendocino. Pinot Noir has found significant success from this region.
Amador 4 Fires, A Taste of the Foothills
By
Roger King
March 6, 2015
Besides legendary Zinfandel, Amador County has taken to Rhone, Italian and Iberian variety wines with laudable results. Now the Amador 4 Fires brings the foods of those regions to an open flame to explore a total experience  [>] continue

Humboldt County: Is Too Much Terroir Possible?
By
Clark Smith
October 14, 2012

Three Days in Humboldt County and Willow Creek
By
Barbara Trigg
August 22, 2012
[>] see all Humboldt County features (2)

Bi-State Upper Hiwassee Highlands an AVA
By
Roger King
August 6, 2014

Remote Manton Valley New California AVA
By
Roger King
July 31, 2014

WAWGG Banquet Explores Washington State Terrior
By
Roger King
February 2, 2014

Taking Focus on Appellation
By
Clark Smith
December 9, 2013

A Day in the (Rutherford) Dust
By
Barbara Trigg
August 2, 2013

Whitehall Lane Winery, A 20 Year Story of Vineyards
By
Roger King
July 15, 2013