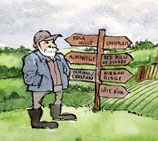 The Willamette Valley has set an impressive standard for North American Pinot Noir, on par with the world's best. If local winery owners have their way, consumers will soon crave not only Willamette Valley Pinot Noir, but also wines labeled from one of its many distinct sub-regions.

Within the last two years the BATF has approved five new AVAs within the valley, with a sixth (the Chehalem Mountains) waiting in the wings. The approval of these AVAs helps consumers make more educated and stimulating purchasing decisions as the valley's best growing regions are now clearly defined.

The 100-mile-long Willamette Valley is currently Oregon's largest appellation. It encompasses 5,200 square miles and the bulk of the state's wineries, which now number over 200. Flanked by the Coastal and Cascade mountains, this appellation has built its reputation on small, quality-oriented producers who are fervently devoted to Pinot Noir. The grape benefits from growing on a variety of hillside slopes and on a range of soils, created by volcanic activity and weathered sedimentary rocks. Increasingly, Pinot Gris is also grown, mostly in the foothills of the Coastal Range.

Willamette's climate is generally considered cool and wet. This can be a misnomer, as most precipitation occurs outside the growing season. Winters are moderate and summers can be pleasantly warm. To learn more about the Willamette's distinct growing regions see our 'maps and more' section.


Amador 4 Fires, A Taste of the Foothills
By
Roger King
March 6, 2015
Besides legendary Zinfandel, Amador County has taken to Rhone, Italian and Iberian variety wines with laudable results. Now the Amador 4 Fires brings the foods of those regions to an open flame to explore a total experience  [>] continue

Willamette Valley: It's Not Just
for Pinot Noir Anymore
By
Alan Goldfarb
August 4, 2008

The Willamette Valley
Pinot Noir Story
By
Alan Goldfarb
August 4, 2008

Hitting the Sweet Spot
at Sweet Cheeks Winery
By
Gregory McCluney
May 19, 2008

Defining the Regional Characteristics of Oregon Pinot Noir: An Interview with Ken Wright
By
Rebecca Murphy
October 3, 2006

The Oregon Chardonnay Alliance Makes a Case for Willamette Valley Chardonnay
By
Rebecca Murphy
August 18, 2006
[>] see all Willamette Valley features (6)

Bi-State Upper Hiwassee Highlands an AVA
By
Roger King
August 6, 2014

Remote Manton Valley New California AVA
By
Roger King
July 31, 2014

WAWGG Banquet Explores Washington State Terrior
By
Roger King
February 2, 2014