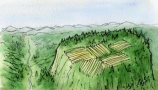 Ribbon Ridge has been called an "island-like ridge", standing alone in the heart of the Willamette Valley. It is another one of Oregon's new "small but mighty" sub-appellations

One of the latest to acquire AVA (American Viticultural Area) status in the state, this appellation boasts a who's who of Willamette Valley producers, including the likes of Beaux Freres, Bergstrom and Adelsheim.

The area itself is a detached ridge running for 10 miles east to west in Yamhill County and separated from surrounding regions by creeks on its north and eastern borders and a dramatic 300 foot drop to the Chehalem Valley on the ridge's western edge.

Like the Dundee Hills directly to the south, vineyards in this AVA benefit from having larger land masses to protect them from extreme climatic conditions. This natural protection contributes to the ridge's higher minimum and maximum daily temperatures during the growing season, as well as giving it lower precipitation levels (29 to 36 inches per year) relative to surrounding regions. Ribbon Ridge also enjoys an earlier start to the growing season, less heat spikes and lower nighttime fluctuations in temperature. The combination of these effects promotes an extended growing season, excellent acid retention and added complexity in the grapes of the region. Considering the prestige already attained by producers in this AVA, the name Ribbon Ridge will likely acquire cult status amongst Pinot Noir lovers around the world.
Amador 4 Fires, A Taste of the Foothills
By
Roger King
March 6, 2015
Besides legendary Zinfandel, Amador County has taken to Rhone, Italian and Iberian variety wines with laudable results. Now the Amador 4 Fires brings the foods of those regions to an open flame to explore a total experience  [>] continue

Bi-State Upper Hiwassee Highlands an AVA
By
Roger King
August 6, 2014

Remote Manton Valley New California AVA
By
Roger King
July 31, 2014

WAWGG Banquet Explores Washington State Terrior
By
Roger King
February 2, 2014

Taking Focus on Appellation
By
Clark Smith
December 9, 2013

Whitehall Lane Winery, A 20 Year Story of Vineyards
By
Roger King
July 15, 2013

Embracing Virginia's Terroir
By
Richard Leahy
June 2, 2013

Shake Ridge Ranch - Gem of the Sierra
By
Roger King
May 16, 2013