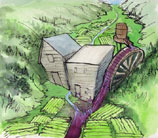 Densely planted with vines, St. Helena has over 30 wineries and is widely known to be a quality winegrowing region. Covering just over 9,000 acres, the appellation is located where the Napa Valley floor narrows, between the Mayacamas and Vaca mountains. St. Helena is considered to be the centre of quality viticulture in Napa Valley. The history of winemaking here is legendary and St. Helena's wines are unique. Charles Krug, who opened his celebrated winery in 1861, is considered the father of Napa viticulture. The area's wines still rank among the valley's best. This AVA is located in an up-valley area, where the climate and soils are quite different from the surrounding regions. A marine air incursion that affects the lower areas of the valley is not so dominant here. However, cool Pacific breezes from the north reach St. Helena earlier, cooling vines quickly and delivering graceful, intense fruit with concentration and depth. St. Helena has become the cultural, social and economic heart of the Napa Valley.

Bi-State Upper Hiwassee Highlands an AVA
By
Roger King
August 6, 2014
In the southern Blue Ridge Mountains of North Carolina and Georgia vineyards are small and few, yet the establishment of the Upper Hiwassee Highlands could bring much more.  [>] continue

August Briggs: It's both the winemaker and the vineyard
By
Alan Goldfarb
April 28, 2008

Kicking the 'Dust' off Cabernet
By
Alan Goldfarb
December 7, 2007

The Real Starr of Napa Valley
By
Alan Goldfarb
October 18, 2007

Freemark Abbey enters a new era
By
Alan Goldfarb
September 24, 2007

Gerard Zanzonico's Winemaking Adventures in Xanadu
By
Alan Goldfarb
September 6, 2007

St. Helena Cabernet: the "dust" settles here too!
By
Alan Goldfarb
July 18, 2006

St. Helena Zinfandel sets itself apart with distinctive regional characteristics
By
Alan Goldfarb
July 17, 2006
[>] see all St. Helena ~ Napa Valley features (14)

Remote Manton Valley New California AVA
By
Roger King
July 31, 2014