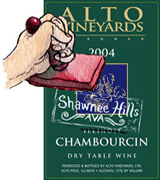 Illinois granted its first AVA: Dynamic advantages recognized
by Eleanor & Ray Heald
December 11, 2006
In a wine world that's becoming increasingly homogenized, the Shawnee Hills AVA stamp confirms the region's capability for producing unique wines which are distinctly regional," said Ted Wichmann, petition author and owner of Water Valley Vineyard, who submitted the AVA application in 2001 for TTB approval. Seyval Blanc, Chardonel, Traminette and Vidal Blanc among white varieties and Chambourcin, Norton and Chancellor among reds have found Shawnee Hills a suitable cooler climate, yet one sufficiently warm each growing season, to offer consistent ripening.
[>] see full story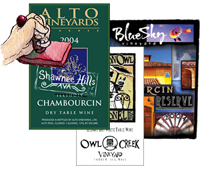 The Shawnee Hills was the first grape growing area in Illinois to be officially designated as an AVA by the TTB, effective December 27, 2006. Grape growing in the Shawnee Hills area dates to the 1860s and toward the end of the 19th century, there were 1,250 acres of vineyards. At the time of AVA approval, the region was home to 18 wineries with 55 vineyards covering about 300 acres.

Located at the southern end of the state, the Shawnee Hills sit at a higher elevation than the areas to the north which were leveled by Ice Age glaciers. The topography of the AVA is marked by hilly ridges ranging from 800 to 1,000 feet elevation. This hilly terrain and its porous sandstone and limestone soils afford the vineyards good water drainage, which is of great benefit in a region that is prone to high rainfall.

The landform that defines the appellation is a ridge that runs 20 miles north to south and spans 80 miles east to west, with its boundaries defined by the Ohio River to the east, the Mississippi to the west, and the lowland floodplains at the convergence of these two rivers to the south.

French-American hybrid varieties dominate the plantings with popular choices being Seyval Blanc, Chardonel, Traminette and Vidal Blanc for the whites and Chambourcin, Norton and Chancellor for the reds. There is also optimism about vinifera varieties like Chardonnay and Cabernet Franc.

It is hoped that the new AVA designation on labels will distinguish the region's wines with a strong regional identity, and with effective marketing, the region's winemakers hope to build consumer recognition that Shawnee Hills on a wine label assures a level of quality and a distinctive style.

Bi-State Upper Hiwassee Highlands an AVA
By
Roger King
August 6, 2014
In the southern Blue Ridge Mountains of North Carolina and Georgia vineyards are small and few, yet the establishment of the Upper Hiwassee Highlands could bring much more.  [>] continue
Illinois granted its first AVA: Dynamic advantages recognized
By
Eleanor & Ray Heald
December 11, 2006
[>] see all Shawnee Hills features (1)

Remote Manton Valley New California AVA
By
Roger King
July 31, 2014

WAWGG Banquet Explores Washington State Terrior
By
Roger King
February 2, 2014

Taking Focus on Appellation
By
Clark Smith
December 9, 2013

Whitehall Lane Winery, A 20 Year Story of Vineyards
By
Roger King
July 15, 2013

Embracing Virginia's Terroir
By
Richard Leahy
June 2, 2013

Shake Ridge Ranch - Gem of the Sierra
By
Roger King
May 16, 2013