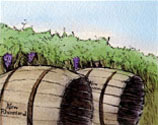 A recent Appellation America study has revealed 50+ operational wineries in the state of Missouri. Many of these wineries are found at the end of a gravel road named after a number (e.g. County Road 3856), but a few can be reached on smooth blacktop. Tasting rooms in Missouri run the gamut, from modern minimalism to country disarray. The person behind the tasting bar may be one of a small army of uniformed pourers, or if you're lucky, it may be the winemaker/viticulturist/owner him/herself, wearing rubber boots and overalls.

Countering the negative impacts of globalization or topping the million gallon-per-year mark are not evident goals of Missouri wineries. It appears they want to make great wine that speaks for the land from which it came. The land here is a study of contrasts: alluvial river bottoms, loess blanketed prairies, and silty hills. The state is blessed with about 200 acres of the Norton/Cynthiana grape and local vintners who know what to do with them. Many Missouri wineries have learned how to make world-class wines with the native Norton as well as with hybrids Chambourcin and Chardonel.

Missouri is slowly returning toward its historical position as a world player in the wine industry (the second largest winery in North America in 1890 was in Missouri). Similar to other agricultural endeavors in this lush state, grape growing and winemaking are constantly improving through collective camaraderie and individual imagination.


~ Tim Pingelton, Missouri Editor

Bi-State Upper Hiwassee Highlands an AVA
By
Roger King
August 6, 2014
In the southern Blue Ridge Mountains of North Carolina and Georgia vineyards are small and few, yet the establishment of the Upper Hiwassee Highlands could bring much more.  [>] continue

You Want Wine Barrels - Missouri's Got Your Wood
By
Tim Pingelton
March 27, 2008

When Bad Weather Happens
to Good Grapegrowers
By
Tim Pingelton
February 19, 2008

Spring Freeze Leads to Summer Squeeze
By
Joe Pollack
May 30, 2007

The Character of Norton
By
Tim Pingelton
January 24, 2006

Salubrious Missouri
By
Tim Pingelton
December 20, 2005
[>] see all Missouri features (4)

Remote Manton Valley New California AVA
By
Roger King
July 31, 2014

WAWGG Banquet Explores Washington State Terrior
By
Roger King
February 2, 2014

Taking Focus on Appellation
By
Clark Smith
December 9, 2013