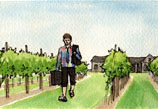 In some ways, Marin County is more like Burgundy than California! This coastal area, just north of San Francisco, is perhaps known more for its recreational and residential development and is not your typical wine making region. However, in this challenging cold climate viticultural area, there are a devout few committed to its success, especially with the finicky Pinot Noir grape.

Marin County is bordered on three sides by the moderating waters of the Pacific Ocean and San Francisco Bay, resulting in winters that are actually warmer than neighboring North Coast winegrowing regions, while allowing for an earlier budbreak, followed by a very long, very cool growing season. Because of this long and gentle growing season, Marin growers get good flavor development before sugars start to soar, allowing them to pick at their leisure without resorting to the extended "hang times" that have become prevalent in other California regions. The resulting wines are marked by their bright flavors, superb acidity and lower alcohols.

Proximity to San Francisco would normally present the threat of urban sprawl, but residential development in Marin has been contained to southern and eastern portions, with much of west Marin protected in perpetuity via agricultural land easements. It is here in rugged, wild and un-developed west Marin that you find the vineyards. There are now approximately 200 acres under vine, planted to Pinot Noir, Riesling, Chardonnay, Gewürztraminer, Merlot & Cabernet Sauvignon.

Large corporate wine companies have up to now overlooked this promising region, leaving the local industry to the handful of small family-owned wineries growing and producing their own wines.

Bi-State Upper Hiwassee Highlands an AVA
By
Roger King
August 6, 2014
In the southern Blue Ridge Mountains of North Carolina and Georgia vineyards are small and few, yet the establishment of the Upper Hiwassee Highlands could bring much more.  [>] continue

Remote Manton Valley New California AVA
By
Roger King
July 31, 2014

WAWGG Banquet Explores Washington State Terrior
By
Roger King
February 2, 2014

Taking Focus on Appellation
By
Clark Smith
December 9, 2013

A Day in the (Rutherford) Dust
By
Barbara Trigg
August 2, 2013

Whitehall Lane Winery, A 20 Year Story of Vineyards
By
Roger King
July 15, 2013

Embracing Virginia's Terroir
By
Richard Leahy
June 2, 2013

Shake Ridge Ranch - Gem of the Sierra
By
Roger King
May 16, 2013