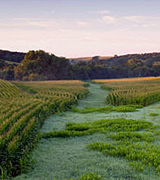 The New Future of Iowa Grape Growing and Winemaking
by Tim Pingelton
March 19, 2009
Iowa was one of the largest wine producers in the country at one time, and then Prohibition put us out of business. The next thing that happened was the 1940 Armistice Day Storm that killed every apple tree and grape vine in Iowa. Now Iowa is experiencing a new era for grape growing and winemaking: the people are different, the grapes are different, and production and marketing are different.
[>] see full story
Related Stories...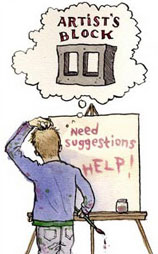 Famous as a "corn state", Iowa has focused on growing wine grapes in recent years. Acreage under vine is increasing rapidly, with nearly 60 wineries now licensed in the state. Iowa's soils vary greatly, from those very high in clay, to soils that are gravel based. The areas showing the greatest potential for vines are in the westward "Loess Hills" area and in the northeast, with its magnificent limestone-based soils and steep slopes that stretch over about 20 miles.

Despite all of its strengths, Iowa does have challenges. The state is trying to overcome the devastating effects of 2,4-D, a herbicide which is still commonly used and is extremely lethal to grapes. Iowa also has four very distinct and extreme seasons. Hot summer days make grapes susceptible to fungal disease, and in the winter -20 F days are not uncommon. Hardy cultivars are a must in this region. There are few vinifera varieties grown in the state, however much work is done with French Hybrids and native American grapes. Iowa is going through an experimental period, with all the determination and potential needed to succeed.
Amador 4 Fires, A Taste of the Foothills
By
Roger King
March 6, 2015
Besides legendary Zinfandel, Amador County has taken to Rhone, Italian and Iberian variety wines with laudable results. Now the Amador 4 Fires brings the foods of those regions to an open flame to explore a total experience  [>] continue

Bi-State Upper Hiwassee Highlands an AVA
By
Roger King
August 6, 2014

Remote Manton Valley New California AVA
By
Roger King
July 31, 2014

WAWGG Banquet Explores Washington State Terrior
By
Roger King
February 2, 2014

Taking Focus on Appellation
By
Clark Smith
December 9, 2013

Whitehall Lane Winery, A 20 Year Story of Vineyards
By
Roger King
July 15, 2013

Embracing Virginia's Terroir
By
Richard Leahy
June 2, 2013

Shake Ridge Ranch - Gem of the Sierra
By
Roger King
May 16, 2013