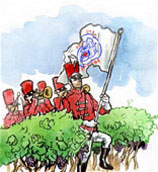 Fresno County is known more for its production of raisins than fine wine grapes, but it nonetheless is home to a winery with fierce pride and a wealth of talent. Fresno State, the local university has a viticulture and enology program, second only to the University of California Davis. While the program, often gets second billing compared to Davis, it has something UC Davis lacks – a commercial winery.

Not only does Fresno State have a winery, it has an award winning winery (with close to one hundred awards since it was bonded in 1997). Among the awards the winery has received are "Best Syrah of California " at the 1999 California State Fair for the winery's 1998 California Syrah and the "Best of Class - Italian Varietals" at the 2002 Los Angeles County Fair for the 2000 President's Reserve Primitivo.

Grapes used in the production of the award winning wines are sourced from around the Central Valley, and some grapes including Carignan are grown in the university's vineyard. While, Fresno County may never gain a reputation for growing the best grapes in the state, the wines made by the students at Fresno State are source of pride for the region.

Bi-State Upper Hiwassee Highlands an AVA
By
Roger King
August 6, 2014
In the southern Blue Ridge Mountains of North Carolina and Georgia vineyards are small and few, yet the establishment of the Upper Hiwassee Highlands could bring much more.  [>] continue

Central Valley Winery Moves Beyond Low-End Table Wines
By
Courtney Cochran
February 24, 2009

Central Cal's Magic Act:
Turning A Jug Wine Region
into a Premium One
By
Courtney Cochran
August 8, 2008
[>] see all Fresno County features (2)

Remote Manton Valley New California AVA
By
Roger King
July 31, 2014

WAWGG Banquet Explores Washington State Terrior
By
Roger King
February 2, 2014

Taking Focus on Appellation
By
Clark Smith
December 9, 2013

A Day in the (Rutherford) Dust
By
Barbara Trigg
August 2, 2013

Whitehall Lane Winery, A 20 Year Story of Vineyards
By
Roger King
July 15, 2013

Embracing Virginia's Terroir
By
Richard Leahy
June 2, 2013