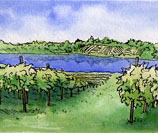 American Rhineland? The Finger Lakes AVA is the Empire State's largest wine-growing region, with approximately 11,000 acres under vine and close to 100 operating wineries.

The AVA's similarities to Germany's Rhine area begin with its bitterly cold winters and short growing season. Also reminiscent is the preferred grape, Riesling, and the picturesque, river-like lakes, with their steep vine-clad slopes running down to the shoreline. Besides Riesling, a wide range of cold-tolerant vinifera, French hybrid and native American varieties thrive. Appellation specialties include sparkling and icewine.

This upstate viticultural area centers around the four main lakes: Canandaigua, Keuka, Seneca, and Cayuga, with the latter two having their own AVA status. The long, narrow, deepwater lakes help moderate the climate against the very cold and snowy winters, and then extend the summer heat into a protracted growing season. Steep slopes along the lakes provide good sun exposures and excellent air drainage, helping to reduce frost risks at both ends of the season.
Amador 4 Fires, A Taste of the Foothills
By
Roger King
March 6, 2015
Besides legendary Zinfandel, Amador County has taken to Rhone, Italian and Iberian variety wines with laudable results. Now the Amador 4 Fires brings the foods of those regions to an open flame to explore a total experience  [>] continue

The Mysteries of the Finger Lakes Terroir
By
Lenn Thompson
April 6, 2009

Damiani Wine Cellars Forges Red Wine
Reputation in The Finger Lakes
By
Craig Pinhey
September 17, 2007
[>] see all Finger Lakes features (3)

Bi-State Upper Hiwassee Highlands an AVA
By
Roger King
August 6, 2014

Remote Manton Valley New California AVA
By
Roger King
July 31, 2014

WAWGG Banquet Explores Washington State Terrior
By
Roger King
February 2, 2014

Taking Focus on Appellation
By
Clark Smith
December 9, 2013

Whitehall Lane Winery, A 20 Year Story of Vineyards
By
Roger King
July 15, 2013