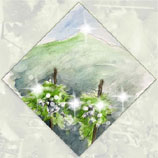 Wine grapes, particularly Cabernet Sauvignon, are the true diamonds of this remarkable AVA. Covering 5,000 rocky acres in the Mayacamas Range on the northeast side of Napa Valley, this region has just over 500 acres under vine. Due to the up-valley location and the high elevation of vineyards, the fog that influences the valley floor is not a factor here. Unique, porous volcanic soils and extended exposure to the sun are the reasons that world-class wines are made here. The Cabernets are described as rich and powerful with chewy textures and diamond-hard tannins. Other varieties, including Cabernet Franc and Zinfandel, are being grown with great success. The quality of wines made in this AVA assure a future that is certain to glitter!
Amador 4 Fires, A Taste of the Foothills
By
Roger King
March 6, 2015
Besides legendary Zinfandel, Amador County has taken to Rhone, Italian and Iberian variety wines with laudable results. Now the Amador 4 Fires brings the foods of those regions to an open flame to explore a total experience  [>] continue

What's Good For Graeser
Should Be Good For The Country
By
Alan Goldfarb
June 15, 2009

Diamond Mountain: A gem of a place
By
Alan Goldfarb
January 11, 2008

J. Davies: Why Did Sparkling Wine Producer Schramsberg Turn To Cabernet?
By
Alan Goldfarb
January 15, 2007

Phil Steinschriber: Changing the style of Diamond Creek
By
Alan Goldfarb
September 14, 2006
[>] see all Diamond Mountain District ~ Napa Valley features (8)

Bi-State Upper Hiwassee Highlands an AVA
By
Roger King
August 6, 2014

Remote Manton Valley New California AVA
By
Roger King
July 31, 2014

WAWGG Banquet Explores Washington State Terrior
By
Roger King
February 2, 2014