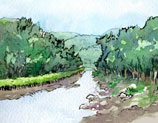 AVA status is traditionally granted to viticultural areas with established histories which are home to a group of wineries with a common goal of increasing awareness about the unique qualities of their growing region. The recently approved Covelo AVA located in northern Mendocino County bucks this convention as there are currently only 2 acres of land under vine and no wineries. Presumably Mr. Ralph Carter, the petitioner for this AVA, believes an appellation should be defined purely on climatic conditions rather than any marketing objectives that may benefit from acquiring AVA standing. The TTB obviously agreed, delivering its final ruling on the matter and approving the Covelo AVA on February 16th, 2006.

The Covelo AVA is located about 45 miles north of Ukiah and encompasses Round Valley, Williams Valley, and the surrounding foothills. According to the petition, "the bowl shaped basin of Round Valley…is distinctly different from the long, narrow valleys more commonly found in Mendocino County. In addition…the soils in the proposed Covelo area are, for the most part, very deep, nearly level loam, which differ significantly from the soils in the surrounding areas." The petition further explained that the high peaks surrounding the region effectively block any coastal influence, providing the Covelo AVA with a continental climate. The growing season here is shorter than other Mendocino growing areas such as Anderson Valley and the Yorkville Highlands and the region experiences greater fluctuations between daytime and nighttime temperatures relative to other Mendocino County appellations.

Time will tell if the creation of the Covelo AVA will attract increased vineyard activity or if this new appellation will simply serve as another small and obscure piece of the American Viticultural Area puzzle.

Bi-State Upper Hiwassee Highlands an AVA
By
Roger King
August 6, 2014
In the southern Blue Ridge Mountains of North Carolina and Georgia vineyards are small and few, yet the establishment of the Upper Hiwassee Highlands could bring much more.  [>] continue

Remote Manton Valley New California AVA
By
Roger King
July 31, 2014

WAWGG Banquet Explores Washington State Terrior
By
Roger King
February 2, 2014

Taking Focus on Appellation
By
Clark Smith
December 9, 2013

A Day in the (Rutherford) Dust
By
Barbara Trigg
August 2, 2013

Whitehall Lane Winery, A 20 Year Story of Vineyards
By
Roger King
July 15, 2013

Embracing Virginia's Terroir
By
Richard Leahy
June 2, 2013

Shake Ridge Ranch - Gem of the Sierra
By
Roger King
May 16, 2013