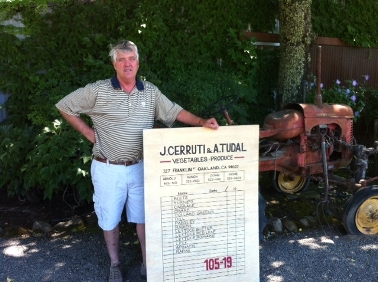 Tudal, Napa Valley
Growing produce has been a long standing endeavor for the Tudal family, but after relocating to Napa Valley in the 1970's turning to wine grapes and wine making took an ever increasing center stage. These roots continue even today with one of the more unique winery experiences to be found in Napa Valley.
by Barbara Trigg
September 26, 2013
---
<!>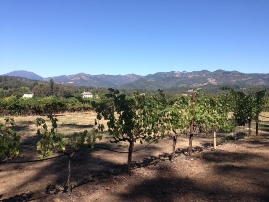 As you drive north of St. Helena on Hwy 29 in the Napa Valley, the valley narrows and the surrounding hillsides are ringed with pines. Traffic lessens, the hustle-bustle of the mid valley is behind you, and a pleasant western charm takes over. Tucked away off the main roads are some low-key wineries that showcase not only high quality wines but genuine hospitality without any hype.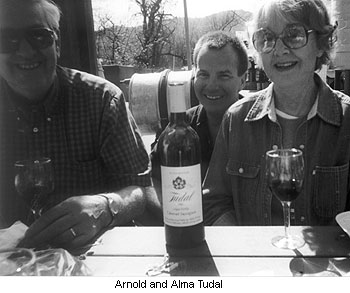 Tudal Winery, located on a small lane off Hwy 29 is one of those wineries. The Tudal family has long roots in the Napa Valley. Alma and Arnold Tudal purchased their property in 1974, intending to retire and only sell the walnuts from the grove on the property. Turning later to grape-growing, they received advice from Dan Duckhorn in his pre-Duckhorn Vineyards life as a vineyard specialist. Viticultural advice came from Louis P Martini. Before moving to the valley, the Tudal family had been green-grocer farmers in the Oakland area for decades. With farming in their blood and advice from the local pros, they planted their first five acres to cabernet sauvignon. The vines are still there and under production. Their ten acre farm, bordering on the Napa River, now includes 9 acres of vines of cabernet sauvignon. The last four acres were planted in 2000.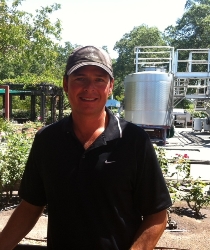 Still a family owned and operated winery, third generation owner John Tudal and his wife Felicia are carrying on the family tradition of making fine wine. The green-grocer tradition also continues. I tasted wines outside on a table near a tool shed with John Tudal and winemaker Rudy Zuidema surrounded by the bounty of their gardens. Raised beds and overhead trellises were so loaded with fruits , vegetables, and flowers that I was tempted to reach out and taste. Tucked around the property are a collection of historic tractors and tools. Guests can also enjoy the bocce court. The setting is definitely Napa rustic; much like it must have been back in the 70's. The wines have an "old-world" elegance but they are certainly not rustic.
John is a gregarious host. He brings alive the history of the winery, talking passionately about the family, the vineyards, and the wines. At one point in the conversation, his mother, Alma, now in her nineties, drove by in her car checking out the property. Everyone here is hands-on.
We started our chat over a bottle of
2012 Alma's Napa Rose
. A blend of cabernet sauvignon, gamay, and sauvignon blanc, this 112 case production showcases all of the varieties: rich pink color, nice body and balance, and lovely aromatics. Whole cluster pressed, it comes in at 12.3% alcohol and makes not only a lovely way to spend a summer afternoon but would also be at home at the thanksgiving table.
Their
2012 Sauvignon Blanc
is produced from grapes grown on Carpenter Ranch on nearby Lodi Lane. Classic tart and grassy, this wine also displays herbal and nutty notes. With only 110 cases made, it is worth seeking out.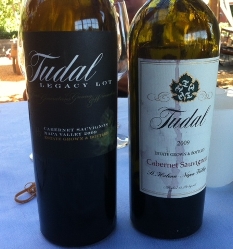 2009 Estate Grown Cabernet Sauvignon
is 100% cabernet grown mostly on the old vines. This wine has an old world style. Minerally and complex with layer upon layer of dark fruit, herbs, herbs, sweet oak and balanced by a pleasing acidity, it is one for the cellar. Age-worthy, and a real deal at $65.00, it is one to buy by the case.
2009 Legacy Lot Cabernet Sauvignon 30th Anniversary Edition
is made entirely from the old vine vineyard. Created as a tribute to Arnold Tudal, this wine spent 30 months in French oak, sixty-six percent new. Only 75 cases were produced.
2010 Baci's Bin 32 Red Wine
is a tribute to Alma Cerruti Tudal's father "Baci", who founded the family business in Alameda in 1942. This is a bold Super-Tuscan style wine. Tart sangiovese blended with Bordeaux varieties. Lots of dark fruit and great structure.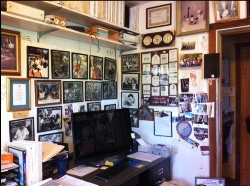 Tudal also has another brand, Cerruti Cellars which has a tasting room in Oakland's Jack London Square. Both Tudal and the value priced Cerruti Cellars wines can be tasted there in a more urban location. It is part of the Oakland Wine Trail and East bay Vintners Alliance.
The Tudal Winery in Napa Valley is located at 1015 Big Tree Road in St. Helena. Tastings are by reservation only. Most tastings are hosted by John or Felicia Tudal in groups of eight or less. The tastings are informal, informative, and fun. This is a spot that should not be missed.