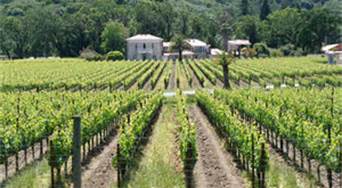 Mendocino County: Wine, Waves and Highway 1
Taking in Mendocino on a BMW motorcycle with thoughts of coastline and vineyards, a tremendous adventure waits. The stunning views of the Pacific Ocean from Hwy 1 are matched by the beauty and diversity of Mendocino wines from Anderson Valley to Potter Valley.
by Carl Ribaudo
August 27, 2013
---
<!>
I turned the corner and there it was one of the most beautiful sights I had seen since I threw my leg over a motorcycle, the Pacific Ocean in its entire splendor. I had just come over the twisty turns of Highway 20 from Willits through the deep forest and was now making my way south on Highway 1 just passing through Fort Bragg and headed to Mendocino. There before me in full view was the grandeur of the Pacific Ocean. It was late afternoon the ocean was calm with waves gently rolling up on shore as if it were getting to wrap it up for the day.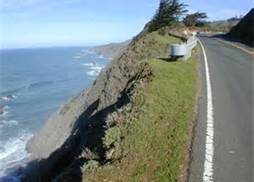 Mendocino County is now known (with mixed enthusiasm) as one of the premier places for marijuana growing, its part of the Emerald Triangle that also includes Humboldt County and Trinity County, but it has been a sneaky great place for wine for many years. Imagine a place that has great wine, great ocean views and one of the most beautiful stretches on earth to ride a motorcycle, Highway 1, that's what you get in Mendocino County.
Like many of places in very rural Northern California Mendocino got its start as a logging town many years ago. In the late 1950's the then isolated North Coast community switched gears with the founding of the Mendocino Art Center. Since that time the places has been a mix of ranchers, farmers, old hippies, artists, wine growers and pot growers all getting along and creating a very funky authentic little destination.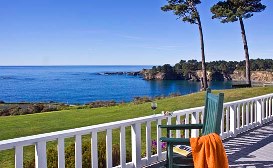 I was bound for the Little River Inn just south of Mendocino right on the coast. The Little River Inn has been around since 1939 and has all the charm and nine holes of golf you would expect a Bed & Breakfast to have. My room and the porch overlooked the Pacific Ocean with a view for as long as the eye could see.
That night I headed the five miles back into town for dinner and landed at Patterson's Pub which in a land of wine was a real find. The menu is as one would expect a pub menu with burgers, sandwiches, salads and the like. As a pub would have it the beer menu is comprehensive with lots of selections from Ireland, England as well as some local brews. Patterson's like just about any restaurant in the area has a nice little wine menu with premium reds and whites as well as sparkling wines. The atmosphere was hopping; the Giants game on in the background and it was a fun atmosphere. After dinner I headed back to the Little River inn and just fell asleep listening to the waves.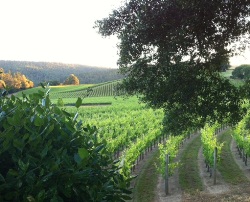 While the Mendocino Coast has a couple of wine tasting rooms one in Mendocino and one in Little River getting to Mendocino wine country is a bit of a drive but I was on a BMW motorcycle so it was nothing to hop on my bike and head along the coast and then cut inland on Highway 128 to Navarro when the real wine country begins. Highway 128 south from Navarro takes you through the legendary Anderson Valley and a host of little towns, places like Philo, Boonville and Yorkville where small scale wineries dot the local landscapes. It is wine tasting old school style small, un- crowded and person to person.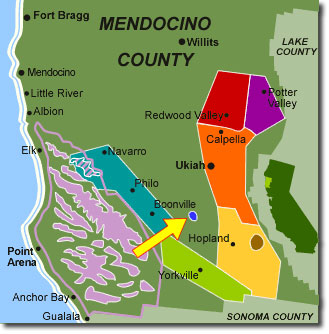 Like many wine destinations Mendocino wine is a confluence of geography, topography, soil and all the elements all working to produce a unique taste and feel to the experience. Mendocino County offers an incredible selection of varietals everything from red Barbera to a white Arneis and everything in between. While you are at it don't forget try some of their sparking offerings including Brut and Rose.
Looking for more fun take Highway 101 North and you come into Hopland another great wine region within the county. Hopeland has a concentration of 17 wineries and great food along the way. Mendocino County has long touted itself as the "greenest" wine region in the country and if you're in the area don't miss America's first carbon neutral winery Parducci Cellars where they pour Pinot, Sustainable White, True grit, Cabernet and Chardonnay. As you travel north on Highway 101 to Ukiah wineries can be found all along the way. While traveling on Highway 101 is well below the world class riding that Highway 1 provides the rider once you get off the freeway your back on two lane roads that prove to quite enjoyable.
Traveling further north takes you to Capella, and Redwood and Potter Valley where there are still more wineries to be had. Mendocino County offers a really nice variety of geography and climate and grape growers take advantage of it. Temperatures on the coast are often ten to 20 degrees cooler then inland. The area also offers the visitor a chance to enjoy a cup of coffee in the morning watching the waves roll in and in the afternoon sample some really great wines. One bit of trivia that I found interesting about Mendocino County is it's the final resting place for the famed racehorse Sea Biscuit. His owner Charles Howard's Ridgewood Ranch was located six miles South of Willits and was home for this beloved horse that became famous for beating Man O War.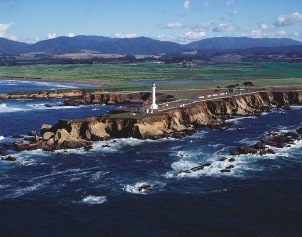 Mendocino County has become one of my favorite places; its two lane roads, redwood forests rugged and beautiful North Coast and funky friendly locals along with its unique green wine industry is a great place to do go. It's a further distance then the more popular Napa and Sonoma and more isolated then other wine destinations but it's a complete experience the journey is a fun and is as interesting as the destination.
Photos: Visit Mendocino