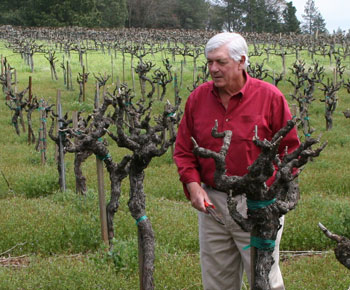 Howell Mountain ~ Napa Valley (AVA)
Howell Mountain Vineyards - Old Vines, Mountain Wines
The first sub appellation in the Napa Valley was Howell Mountain, yet the history goes back well before prohibition. Some of the early plantings flourish today due to dedication to restore what had been planted. Beatty Ranch and Howell Mountain Vineyards showcase that dedication in their wines.
by Roger King
June 9, 2013
---
<!>
It is hard to fully separate Howell Mountain Vineyards from the Howell Mountain – Napa Valley AVA as they have a deep history that binds them together. In 1977 Mike Beatty had purchased some old vineyards near the top of Howell Mountain, well before the AVA system was created and before Napa Valley AVA itself was formalized. Coming from a farming family in Ohio, agriculture was not new, but the vineyards that graced the ranch he purchased were not either, and they were not in great shape.

What was there at the start of Beatty Ranch, were pre prohibition really old neglected vines of Zinfandel and Cabernet Sauvignon. Today many of those head pruned Zinfandel vines are 100 years old or more and a large chunk of the Cabernet Sauvignon (mostly older clone 6) are nearly 50 years old. That they are still in place is tribute to the resurrection farming work Mike put into the vineyards to steward them into the future. Sure some have been replaced, but keeping with what was there was the mission. A very worthy mission indeed.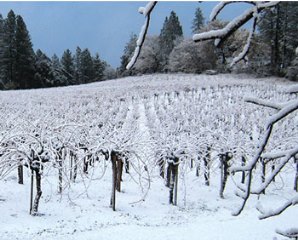 At first Beatty Ranch was just a vineyard operation selling to the early production of evolving winemakers like Randy Dunn for his Howell Mountain Cabernet Sauvignon. But Mike felt Howell Mountain was a bit different than the valley floor of Napa Valley and so along with others, in 1983, petitioned for and eventually received approval for the first sub appellation of Napa Valley, that being Howell Mountain – Napa Valley AVA. History has shown that perceived diversity was very real.
There was a natural fog line that seemed to break around the 1,400 elevation, remain sunny above to the 2,600 foot top elevations. The region was primarily Aiken Red Loam soils, a decomposed volcanic mix that red grapes adore. This is part of the Vaca Mountain Range on the east side of Napa Valley with the better known Mayacamas to the west.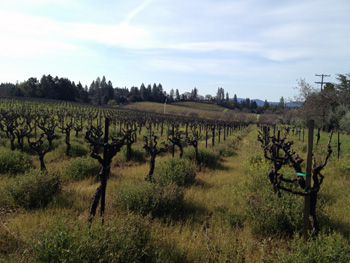 These vineyards represented the oldest Zinfandel and oldest Cabernet Sauvignon on Howell Mountain, itself a very unique quality, but were being crafted into fine wine solely by others. That lead Mike Beatty and Jerry Sears (nearby) to vision and launch Howell Mountain Vineyards as it's own winery and brand in 1988. Over the years notable winemakers have held the role at Howell Mountain Vineyards and built a brand reputation of quality. Yet much of the fruit is still sold to other winemakers.
Today Bryan Kane holds the post of winemaker and is passionate about letting these same vineyards tell their century old story. He focuses on making the wine in the vineyard and being a minimalist in the winery. Careful harvest decisions on ripeness, and it ripens late on Howell Mountain, natural fermentation with native yeast strains that have evolved in the vineyard and patient fermentation are all deployed. The pursuit is balance over power.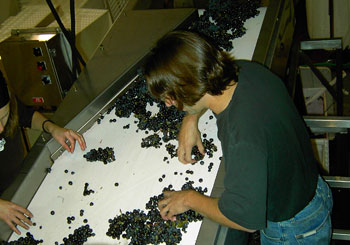 Ripening is a struggle and late October picking dates can often conflict with California weather changes that time of year. To insure quality, some intervention is taken when needed. Late season natural fermentations can be slow, here they are even slower at an average 25 days. The minimalist will step in when needed to insure successful completion. And when complete that balance is graced with the unique qualities of these old vines.

Beatty Ranch is listed as a historic vineyard by the Historic Vineyard Society, a group mostly of high profile zinfandel vintners who treasure the old vines. While their baseline requirement mandates a listed vineyard must pre date 1960 and at least one third of the vines can be traced back to original planting date, this zinfandel block goes back a lot further.
Howell Mountain Vineyards makes just two wines today, a single Zinfandel and a single Cabernet Sauvignon. A common thread of dark cherry cola has been described as present in many Howell Mountain Zins and the Howell Mountain Vineyards shows it well.
No one is really sure if it comes from the old clone (which apparently got passed around often up there in the early days) soils or mountain climate, but it is there. Anise, black pepper and subtle tannins compliment Howell Mountain Vineyards Zinfandel offerings. Case production is a mere 214 a year

The Cabernet Sauvignon is composed of nearly 50 year old clone 6 vines, a little clone 7 to boot. Anise, black liquorish and black current form the flavor profile of this Cab, while subtle but spicy tannins provide supporting structure well. Case production of 392 is not much more. Yet the reality that these rare old vine vineyards are the framework of Howell Mountain Vineyards wines brings joy to those who prize the rewards of such history. It is not common to find such these days in Napa, where vineyards are often given 20 year life spans and replanted.
Want an old vine Napa wine, seek out Howell Mountain Vineyards for the real thing. Knowing these are mountain vineyards that got careful resurrection is a tribute to those who dared to preserve.