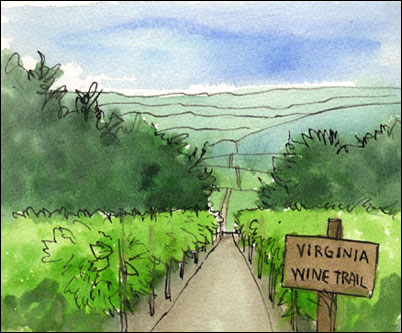 Loudoun County: Virginia's Emerging Wine Country
Loudoun County Virginia takes in a lot. History, horses and wine are among the significant attractions that can be found gracing this area just to the West of Washington DC. Wineries are expanding the visitor experience as they grow their presence.
by Carl Ribaudo
June 16, 2013
---
<!>
It was my first trip here and I could tell it was different. As I left Dulles Airport I was headed for Leesburg in Loudoun County the drive was short but as I was on my way the differences were small but noticeable, the topography open and rolling unlike the Sierras where I live and the names and places had a historical ring, the Potomac River, Battlefield Parkway. Very historical indeed.

When I think about Loudoun County three things come to mind; its horse country, its civil war history an it's emerging wine region. Emerging is really in the eye of the beholder, emerging on compared to other regions with more vineyards and acres planted but already a key piece of the eastern regional tourism experience. In fact Visit Loudoun the areas tourism promotion organization uses the tagline "Washington D.C.'s wine country" and the area has indeed become the recipient of significant weekend visitation from the D.C. which seemingly has adopted Loudoun as its own.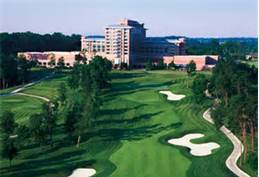 I was heading to the Lansdowne Resort the biggest place in Leesburg. The hotel was big spacious and is located right on the shore of the Potomac River with a great view which I took in every morning. The resort is four diamonds and has 45 holes of Robert Trent Jones right there, ah golf heaven right outside your door.
One thing you realize when you get to Loudoun County is the age and history of different place. Many of the communities are hundreds of years old. The area is home to a number heritage areas and civil war battlefields. Loudoun also is at the heart of "The Journey Through Hallowed Ground National Heritage Area" a 175-mile corridor between Gettysburg, Pennsylvania, and Jefferson's Monticello in Charlottesville, Virginia. Then there is White's Ferry which is the last cable operated ferry on the east coast shuttling people and cars between Virginia and Maryland and has been in business since 1786. Imagine those that crossed in on horseback as you sit back and relax in your car.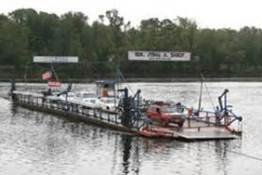 Of course Loudoun has a great choice of restaurants, one night I stopped at La Cucina Italiano a nice little place with a great unpretentious ambiance and I really enjoyed my fresh salad and linguini and clams the white sauce was light flavorful and tasty. After I was done I took a spin looking for a little desert and what do you know there was a Dunkin Doughnuts!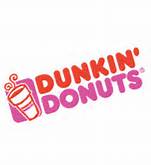 Now you might snicker have a Dunkin Doughnut for dessert but you need to understand out west there is none and as a kid growing up in New York I had more than my share. So every once in a while when I am back east I grab one. Nothing like biting into a nice glazed one and remembering my youth and this one hit the spot.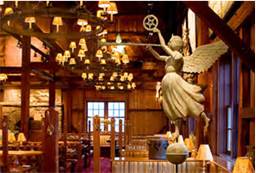 A second night I had dinner at Clyde's Willow Creek farm one of the things you notice is the old farmhouse that now houses the restaurant. Built in 1885, this Victorian beauty is a 40' x 84' post and beam originally built for hay, feed, and stock. What was once a home for milking cows and horse stalls is now a dining room filled all different types of weathervanes. I had a rib eye steak which was the special, the service was great and so was the steak.
As I mentioned Loudon County is an emerging wine destination with about 30 wineries and its old style small scale, easy access where you can meet the winemaker, and get to know them, it's like many wine areas used to be, really friendly.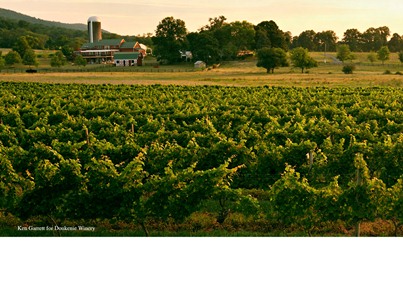 Another great thing about Loudoun County wine country is its location located in the Virginia's countryside where you get a chance to experience the areas horse country, beautiful stretches of road through Virginia's countryside and as I am driving I am wishing on my BMW motorcycle, well next time.
Loudouns most popular varietals include Chardonnay, Viognier, Cabernet Franc, Cabernet Sauvignon, Merlot, Petit Verdot, Norton, Chambourcin, and importantly, blends. A little something for everybody. "Visit Loudoun" tourism office is planning on launching an annual major wine and food event to celebrate the region.
Not knowing what to expect I really enjoyed my stay in Loudoun County, the history, the topography, and the food and wine it's really a nice package.